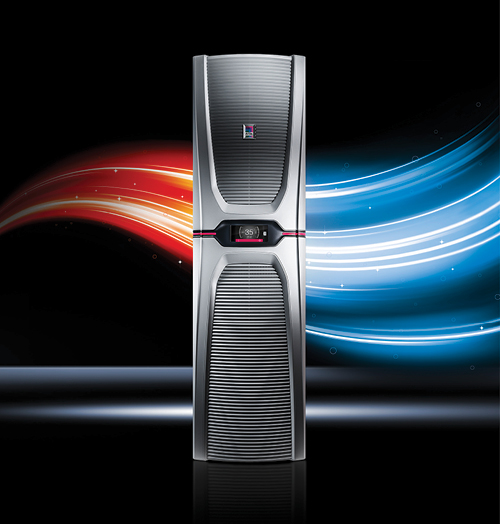 Managing Thermal Fluctuations Extends the Life of Your Controls
Heat is the enemy inside your enclosure. It attacks your controls and electronics while shortening their service life. Temperature can assail your equipment from all sides — on the outside from ambient temperature fluctuations, and inside with high density, high thermal loads.
In thinking about climate control, the challenge remains managing temperatures consistently on both ends of the thermal spectrum in any environment. The trend toward high equipment density in enclosures challenges the heat removal process. Components, even those rated for high heat use, degrade when the heat load rises. Not only do enclosure temperatures rise from the waste heat generated inside but also from external environmental factors.
Generated heat must be removed efficiently, or heat damage will occur. If left unchecked, small malfunctions may be the first sign of overheating and lead to a sudden catastrophic failure that can cost thousands in downtime.
Interior heat consequences include:
De-rated power performance

Trip faults and fluctuations in circuits

Decrease in mean time between failures

Component set point drift

Intermittent or catastrophic system failure

Voided component warranty

Factory downtime

Lost revenue

Delayed shipments

Customer dissatisfaction

Component replacement costs
By thoroughly reviewing your environment and matching it to the right solution, you can avoid these types of long-term consequences. Protecting your equipment by finding the right solution can be done in a couple ways.
What Kind of Cooling System Does the Application Require?
The factors outlined in Figure 1 suggest the type of systems that could match your application requirements.

Figure 1. These flowcharts offer a quick way to decide which type of climate control solution is best suited for a particular application. NEMA 12 protection refers to the National Electrical Manufacturers Association's Type Rating 12, which outlines the requirements for general purpose and indoor use enclosures designed to protect against falling dirt and circulating dust, lint, and fibers, as well as protection against ingress of dripping and splashing water.
Another way to look at finding the right climate control solution is to find your environment and application in the below chart. You can then start looking at the one or two climate products that are field-proven strategies to tackle your climate control needs to extend the life of your electronics.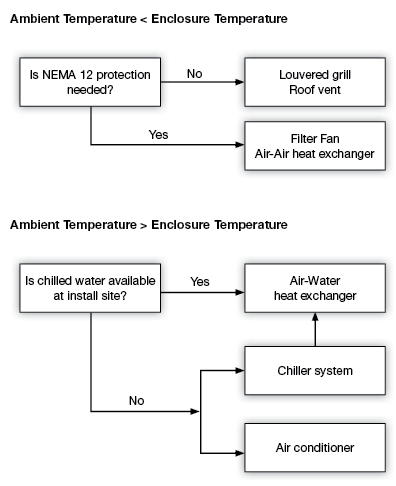 To discover more about enclosure climate control and what you should be looking for, here are a few more resources to point you to the exact product to meet your needs:
Or, reach out to us! We'd be happy to talk through your climate control needs and help pinpoint the product that will keep your systems shielded from too much heat.