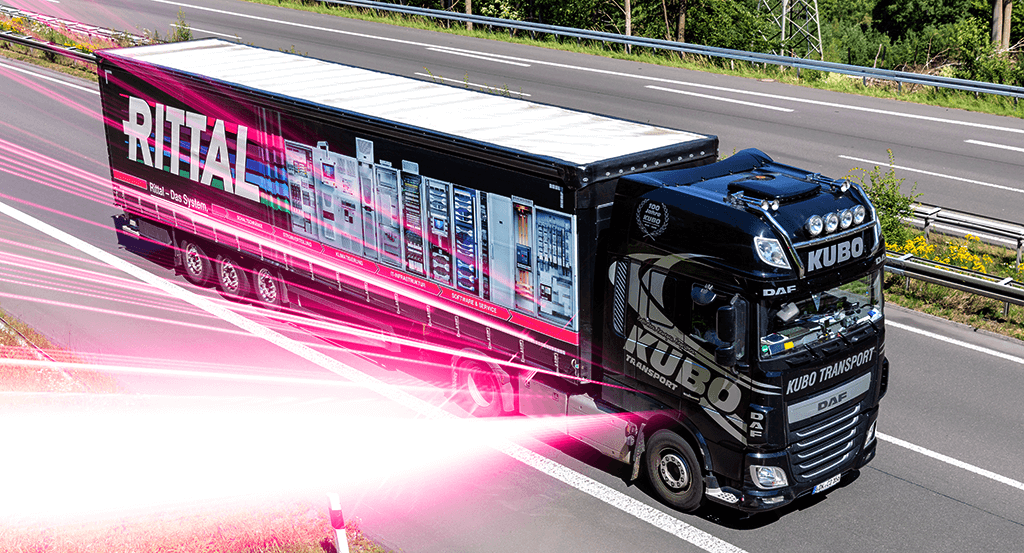 From a video tour of our mod centers to helpful product guides, Rittal offers a variety of downloadable content for a wide range of industries, from automotive to food and beverage and more. With so much to choose from, where do you start? Here's a list of Rittal's top industrial automation downloads so far this year.
Learn How to Keep Retail Fulfillment Centers Running Efficiently
For online retailers, fast and reliable order fulfillment is the key component to building consistency and customer loyalty. And with centers ranging from 500,000 to 1.5 million square feet, one Rittal customer built a global business off fast and reliable order fulfillment.
How did Rittal help this e-commerce giant keep their electronic equipment at multiple fulfillment centers running at peak efficiency — and help them save 70% on their energy costs? Read the case study to discover more.
Take a (Virtual) Tour of Our U.S. Mod Center Tours
Ever wanted to tour one of Rittal's modification centers, where we customize your enclosures? Take our Mod Center Video Tour and explore our Urbana, OH, Sparks, NV, and Houston, TX facilities.
Our state-of-the-art modification centers throughout the United States provide precise cutting, drilling, tapping, and other enclosure and panel modification services to help our customers reduce downtime, save money, and increase efficiency.
Achieve the Perfect Climate Inside Your Enclosure
Across industries, electrical systems are becoming more and more compact and the number of circuits per volume is growing, leading to higher heat generation per unit volume. How do you efficiently achieve the perfect climate within your enclosures? Download our Perfect Climate White Paper to learn more.
Learn How One Systems Integrator Leverages Automation Systems and Digitalization
Big industrial automation challenges require strategy, creativity, and collaboration across organizations. When a major North American auto manufacturer partnered with Electro-Matic, Electro-Matic leveraged their long-lasting relationships with Rittal and EPLAN to go above and beyond.
With the help of Rittal enclosures, Rittal Perforex machines, and EPLAN Pro Panel software, Electro-Matic can provide this automotive giant a standard product at all 52 of its manufacturing facilities around the world. Read the case study to learn more.
See How a Global Pandemic Changed Consumer Attitudes About Food Plant Safety
In May of 2020, roughly six weeks into the COVID-19 global pandemic, we surveyed a representative sample of U.S. food consumers to understand how their attitudes toward food and beverage manufacturers and processors were being affected by current events and related media coverage. We conducted the same survey in 2021 to understand things continued to shift, more than a year into the pandemic.
To learn what insights we gained, download our Consumer Insight Report.
Master the Hygienic Zones
In industries like food and beverage, maintaining hygiene is a key component of protecting quality and safety. And the enclosures housed within your plant must be able to withstand frequent washdowns without contributing to unsanitary conditions like stagnant water and dust between enclosures.
Enter hygienic design, a design philosophy that helps us engineer enclosures that can stand up to F&B environments. Download our Guide to Hygienic Design to learn more.
Go Up the Value Chain
In the manufacturing and industrial markets, competition is fierce. Keeping up with automation and technical advancements are both key challenges and necessities. How can companies create a solid foundation for improvements in efficiency while maintaining the quality of their engineering, work preparation, production, and maintenance?
That's where value chain thinking comes in. To learn about how to leverage the benefits of Industry 4.0 while simplifying the design process, download our white paper, Going Up The Value Chain.
Looking for straight-up techs and specs? Check out these guides for everything you need to design your ideal industrial automation system: