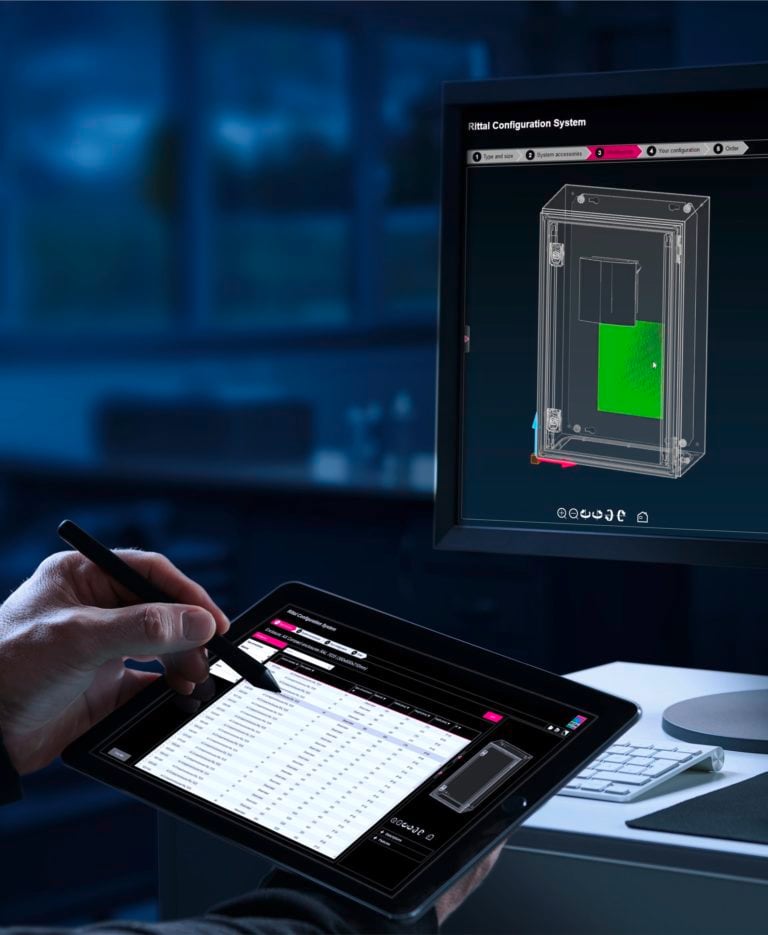 When it comes to Industry 4.0, the right equipment can make or break your business. This doesn't just refer to the technology and critical process components that make up your systems. The enclosures that house them are just as important.
More than anyone, design engineers know how essential it is to specify the right enclosure for each specific system. From maintaining the necessary UL and NEMA ratings for the application, to choosing the right accessories to optimize performance, selecting an enclosure is about more than just product dimensions. It's only through a custom enclosure designed specifically for your application that you can:
Keep your products and systems safe

Prevent unnecessary downtime

Keep costs and maintenance to a minimum

Protect your bottom line
While it's important to configure your enclosure to your unique needs, the process of specifying a design is often long and painstaking. With a lot of back and forth required between your engineers and the manufacturer, it can take weeks – sometimes months – before you even get a quote. With downtime costing an average of $260,000 per hour, this is simply unacceptable.
Downtime: The Killer of Industry 4.0
The (Old) Price of Quality
Until recently, there was a necessary evil to the typical back and forth of specifying an enclosure. You couldn't just throw whatever you wanted into an enclosure and hope that it would work. Accessories and extra parts could overlap or not fit properly into a design, risking the performance or security of the enclosure.
Engineers on both sides had to work with CAD models, manually putting an accessory into the 3D rendering of the enclosure. Multiply that for each time a new part gets added, and it's no wonder the old way of configuring a custom enclosure took so long. Because the "engineer hour" is one of the most precious resources to Industry 4.0, wasting an engineer's time on such a tedious, yet still highly technical task was a heavy burden on any company. However, it was something that had to be done because the cost of downtime is far too high to get the design of the enclosure wrong.
The Power of Online Enclosure Configuration
Fueled by the need for quick and efficient processes, online design tools can help engineers and plant managers streamline how they select an enclosure. By removing the back and forth between you and the manufacturer, online configuration systems put the design power in your hands.
Rather than having you load in another file to your CAD software for every new enclosure or custom part, online tools allow you to make changes to your design with the press of a button. Offering "drag and drop" configuration functionalities, online software will automatically update a rendering of your enclosure into 3D CAD environment – no CAD experience required. The intelligence behind these tools will only include accessories that are appropriate for the selected enclosure, removing the risk of design errors.
Not only does this help to quickly build an enclosure that you have in mind, but it also promotes further design optimization by offering a "sandbox" environment where you can easily test out new configurations and accessories. Using custom filters, the software will only allow you to build an enclosure that fits your specifications. These filters can include:
IP, UL, and NEMA ratings that your enclosure must maintain

Outdoor vs. indoor enclosures

Wallmount vs. freestanding enclosures

Industry or application
You no longer need to worry about going through a lengthy design process just to find out that your enclosure doesn't meet your requirements.
Streamlining the Entire Process
The Rittal Solution
Offering a novel online design tool for enclosure specification, the experts at Rittal have created the Rittal Configuration System. With this easy to use web-based application, you start by picking a base enclosure and filtering by characteristics such as:
Type of enclosure (AX/KX, Wallmount, etc.)

Material

Dimensions (Width/Height/Depth)

Number of doors

IP ratings
Once you've chosen an enclosure, you can select from recommended and applicable accessories to add into your design, such as specialty lights, locks, and mounting rails. The 3D rendering of your enclosure will update in real-time with each new accessory, showing you where they will fit into your design. You no longer have to worry about accessories overlapping or affecting the enclosure rating. The Rittal Configuration System also allows you to machine holes and cut-outs into your design, enhancing enclosure performance and customization.
With your design fully built and rendered online, ordering your enclosure is quick and easy. This fast-tracks the quoting process, allowing Rittal to send you a quote within days of an inquiry.
Not ready to order yet? You can always save your design for later with a .rics file that you can load directly into the Rittal Configuration System, or export your configuration in DXF, STEP, and 3D PDF file formats for your own use.
With the ease of use and fast turnaround times that the Rittal Configuration System offers, engineers can finally design the enclosures that they need, quickly and seamlessly, without all the hassle. Click here to start configuring your next Rittal enclosure today.