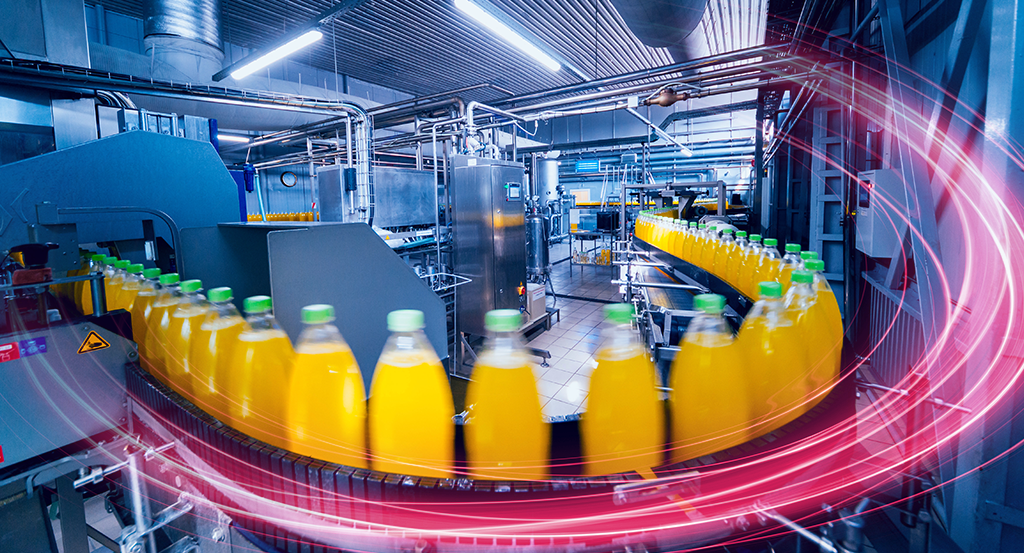 The rise in popularity of online grocery sales during the last few years has propelled the e-grocery market to a whole new level.
In fact, a recent report indicates that online grocery sales will make up more than 20% of at-home grocery purchases by 2026, which means e-grocery providers have a tall task in front of them to both keep up with demand and double-down on the major value proposition of e-grocery sales: convenience.
The primary challenge for e-grocery giants like Walmart, Whole Foods, and a host of others is creating a warehouse infrastructure with the flexibility to scale based on increasing demand and the built-in efficiency to help grocery providers receive, inventory, and move products quickly and with superior visibility into each step of the process.
Warehouse automation can not only help e-grocery providers optimize their processes for increased productivity, but it can also help them overcome a number of challenges such as labor shortages, energy costs, and lead times. Let's look at a couple of ways warehouse automation can help support the growth of the e-grocery market and help e-grocery providers really bring home the bacon.
How can warehouse automation help with retrofitting facilities?
The growth of the e-grocery market has put providers in a position to either build new warehouses and distribution centers or retrofit existing buildings to suit their needs. With more and more companies opting to retrofit, their primary challenge becomes adapting to space constraints of older facilities and creating an industrial automation infrastructure with a smaller physical footprint.
For example, innovative uses of space via overhead conveyor systems can help enhance the movement and inventorying of products while still keeping space constraints at the top of mind. Because overhead systems utilize the space above the warehouse floor, designers and engineers need compact industrial enclosures with variable mounting and wiring options to facilitate this kind of warehouse automation.
Rittal's AX compact enclosure is a wall mounted enclosure that can be easily customized to suit the needs of specific industrial applications without sacrificing the protection and security of mission-critical electronic components. Available in a variety of sizes, the AX offers seamless integration into a variety of environmental conditions while still providing superior protection and security.
In addition, Rittal's TS 8 modular enclosure helps automation architects easily adapt to tight spaces with features like removable panels, interchangeable doors and handles, and a wealth of configuration options that can be completed without the need for specialized tooling. Not only does this modular design make it easy to customize an enclosure in mere minutes without the need for additional resources or personnel, the TS 8 is also compatible with Rittal's enclosure handling and transport tools to help assemblers and installers reduce the time and manpower necessary to modify their warehouse automation footprint.
How can warehouse automation help e-grocery providers work faster?
Much like the material handling industry, the need for speed is paramount in the e-grocery space, especially as more and more players enter the industry and the landscape grows more competitive. Also much like the material handling space, the volume of products in the e-grocery pipeline makes warehouse automation systems even more critical in helping e-grocery providers work faster and more efficiently.
The hurdles in the e-grocery market are, on the surface, similar to those in other areas of modern manufacturing: prolonged lead times, supply chain disruptions, unplanned maintenance intervals, and energy-efficiency. But the e-grocery market has an additional wrinkle in those products such as dairy or other perishables require constant refrigeration to avoid spoilage, and this means automation architects need warehouse automation systems that are consistent and reliable.
Rittal's VX SE Freestanding Enclosure System is a standard product that combines durability, versatility, and reliability for use in any warehouse automation infrastructure.
The VX SE can easily be scaled based on demand or space constraints. The VX SE offers a wide range of dimensions with widths up to 1800 mm to replace up to three baying enclosures and depths starting at 300 mm for confined production applications. In addition, IP 66 and NEMA 4/4X ratings provide superior protection against harsh environmental conditions.
Plus, warehouse automation helps the e-grocery market's labor force reduce errors while actually increasing production. While automation can replace some manual tasks, utilizing Human Machine Interfaces (HMI) throughout facilities to control partially automated systems such as conveyor belts or heavy machinery can also assist in facility operations. Rittal's full line of HMI solutions are not only designed for seamless integration with existing warehouse automation systems, but they're also ergonomically designed for superior productivity.
Rittal's line of industrial enclosures and accessories can help support the e-grocery market as it continues to grow and diversify. Learn how our industrial enclosures can help you create a modern, efficient warehouse automation system.