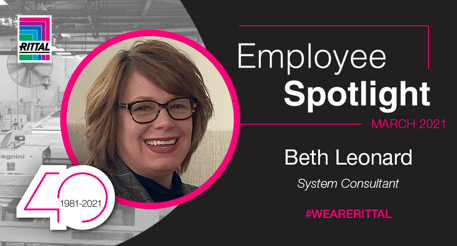 We build our corporate culture on team spirit and this would not be possible if we did not put importance on building long-term relationships with our team. It is because of our talented team that we have seen continuous growth and will continue with a bright future. Our team is #RittalResilient #RittalStrong and together, We are Rittal!
Introduction
After receiving her degree in Engineering Management at Clarkson University in upstate New York, Beth Leonard was inspired to pursue a career with Rittal because of the quality of its product line and culture of promoting industry innovation. On top of celebrating Beth's expertise as a STEM professional, she is also Rittal's first female System Consultant. We're proud to highlight her in our Employee Spotlight during Women's History Month.
Question and Answers
How long have you worked at Rittal?
I've worked with Rittal for 7 years.
Tell us about your education and career leading up to your current role. What did you study, and what other roles have you held?
I attended Clarkson University, which specializes in STEM in upstate New York, majoring in Engineering and Management. Since I enjoy the interaction with end users and offering solutions, my career has ranged from sales to application engineering and product management.
What inspired you to pursue a career with Rittal?
The products. Rittal is always looking for ways to better their product offering. This is by improvements to existing products or looking at new products that complement the current portfolio.
What's the coolest project you're currently working on?
A swing arm application for a technology company that manufactures industrial, safety, and consumer products. We are replacing a competitor who has long lead times and is costly. Our client was impressed that we could supply something similar with stocked products.
Who or what inspires you?
My mother. She is the smartest and most supportive person I know. Plus with her own career in STEM, she has shown me there is nothing I can't do.
Do you have any advice for new hires at Rittal?
Rittal has a lot going on. Although you may be overwhelmed in the beginning, don't hesitate to reach out to the team because someone is always there to help. Just ask.
What does true leadership mean to you?
Leadership to me is someone who recognizes your strengths and weaknesses while implementing strategies to enable you to excel.
What has been the proudest moment in your professional career?
Being the first Female System Consultant at Rittal.
What do you do for fun?
My husband and I are almost empty nesters so it's like we are dating again. Dinners out, concerts, and long bike rides are some of the things we like to do together.
Discover how rewarding a career with Rittal can be and join our team today!