Cooling Isn't Enough: Why IT Racks Need Dust, Debris Protection
We've talked in past blog posts about the benefits of liquid cooling in environments where the server density is high and true "data center space" isn't available. In our recent post, we specifically highlighted healthcare, education, manufacturing and distribution facilities, where unused offices, basement storage areas and other spaces are often turned into makeshift data rooms.
Read Here: Data Center Cooling-The Best Methods for Different Needs
These spaces are less-than-ideal locations for heat-generating IT equipment, yet some organizations simply mount their IT equipment on server racks and place those racks in a room, hoping the building's HVAC system will keep it cool. However, these "comfort systems" aren't designed to cool equipment, nor can they adequately protect against the intrusions of liquids, dust and debris. Fortunately, there is a solution that does both: a modular system (sometimes called cabinet) with efficient cooling and appropriate physical protection.
Get the Right Ingress Protection in Your Data Center Cooling System
In the best of circumstances, facilities supporting the organizations described above may not be able to provide anything close to an ideal environment for IT equipment; factor in the potential for temperature extremes, moisture and debris, and you really have a threat on your hands. IT enclosures that feature cooling appliances and that are IP-rated will do a great job of keeping the equipment within the recommended temperature range while preventing contaminants from entering the cabinet.
"IP" stands for Ingress Protection (or International Protection) – a two-digit grading system applied to the enclosure of a mechanical or electrical item, indicating that item's resistance to "intrusions." For IT enclosures, the ratings define the sealing effectiveness against intrusion from foreign bodies and moisture. Specifically, the IP code indicates the level of:
Resistance to accidental contact

Resistance to ingress from dust and debris

Resistance to moisture (water, solvents, oil)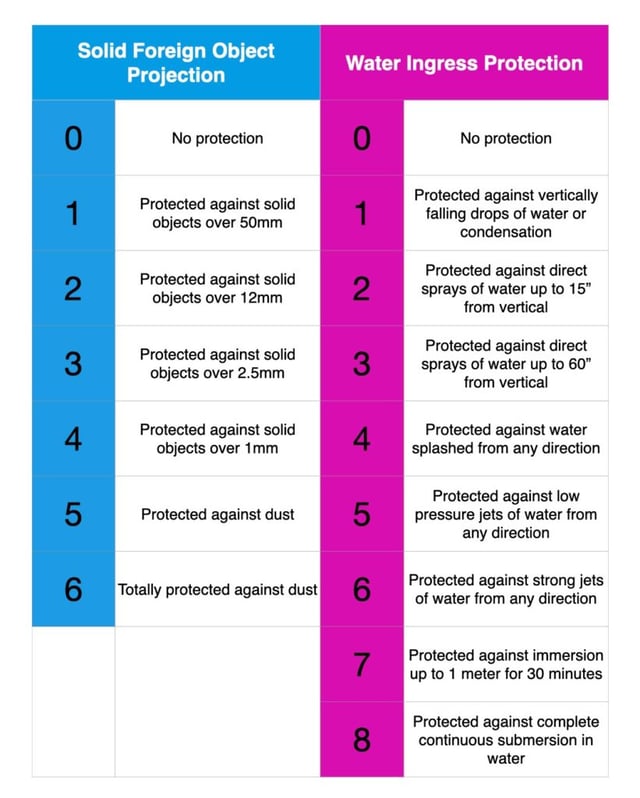 Working together, the required IP rating of your enclosure is determined by you and your enclosure partner, and based on the specific conditions and risks of that environment.
Schools and hospitals.

In these environments, IT racks are often placed in close proximity to (or even in) janitorial closets, where equipment is vulnerable to water and chemicals (surface and airborne) that can cause damage to sensitive equipment

Manufacturing and distribution/warehousing.

These types of facilities are in a constant state of activity – machinery, vehicles and people create and stir up debris and particles that could find their way into IT racks. Water, oil and solvents are also commonly used in the production process and/or maintenance and could also pose a threat to system operation
Other industries (e.g., Oil & Gas, Food Processing, Transit) can have more stringent requirements requiring even higher levels of protection. Also, please note that NEMA ratings can also be used to determine levels of protection for enclosures, though NEMA ratings are more closely associated with industrial applications and may be too stringent to IT system deployments.
Cabinet Cooling & IP: The Best Combination of Your Facility
Rittal enclosures offer the best of both server rack cooling and ingress protection, keeping equipment from overheating and minimizing the risk of harmful particulates and moisture common in different environments.
As part of Rittal's comprehensive family of climate control products, the new LCP DX 20kW pairs an IP-rated enclosure with highly efficient cooling for IT rooms and other confined spaces that would otherwise rely on a building's HVAC system.
The LCP DX 20kW is a close coupled, open or closed air flow loop IT rack cooling solution with the features that make it ideal for installation in repurposed spaces – and for facilities with limited staff support:
A small footprint

Easy to maintain (tool-less fan replacement; easy access electrical connections)

Precise climate control (set point temperature is maintained as heat loads vary)

On board TCP/IP communications for continuous monitoring and remote notifications

Variable capacity (follow heat load variations from 5 to 20kW)
Learn more about your data room cooling options in our white paper, "Data Center Cooling: 4 Effective Types of Liquid Cooling." You'll find valuable information about today's go-to choice for data centers of all sizes – liquid cooling – and 4 of the best options for different scenarios.