Why Data Center Edge Computing is Growing, and Where It's Headed
The origin of Edge computing is often traced back to the 1990s – well before the incredible flood of social, gaming, streaming video, IoT, Industry 4.0 and other data-rich (and data-hungry) applications. Today, we're seeing a remarkable surge in Edge installations, mirroring an increasing emphasis on local data processing that gives everyone what they're looking for: speed.
Basically, an Edge system supporting any of these applications works like this:
Personal devices, IoT sensors, etc. generate data sent to interconnected nodes that act as routers, forwarding traffic as needed and enabling the data to jump between nodes until it reaches its destination

From there the data goes to a gateway that aggregates and converts it to a common protocol for access across the WAN (Wide Area Network). The gateway processes and analyzes the data from the sensors in real time, reducing latency (and power usage). Collected data does not need to travel back to the central server for the device to know that a function needs to be executed; that translates to reduced operating costs and decreased storage needs

After it has been analyzed, the data is sent to the central processing or storage in a data center or Cloud
And just what is this Edge Data Center? It could be a container or other modular unit supporting 10 - 15 IT enclosures. It could be a repurposed building converted to support a larger number of footprints (15 - 50). It could even be in a regional data center or colocation facility - a space supporting multiple end users each with their own limited number of footprints and IT appliances.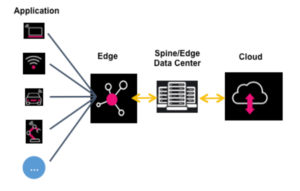 We can also think of this space as a Spine Data Center - a backbone connecting the remote Edge cabinets back to the enterprise or cloud data center. But, unlike the Standalone Edge installation, these sites will benefit from supporting infrastructure associated with such a space - back-up power and UPS, on site climate control, better security.
Beyond just processing speed, there are a number of other drivers motivating organizations to bring their computing to the Edge, including:
Data security. In Edge systems, sensitive data is processed onsite, with only privacy-compliant data sent to the cloud to be analyzed
Connectivity/availability. Edge computing ensures that applications are not interrupted, even in cases of limited or intermittent network connectivity. This is particularly important for applications deployed in remote locations where connectivity is inconsistent
More efficient cooling. For large data centers, the monthly cost of electricity used in cooling can exceed the cost of electricity used in processing. In theory, it could cost a business less to control the climate in several smaller data center spaces than it does in a large data center
Which Industries Benefit Most from Edge?
A better question might be, "What industries don't benefit from Edge computing?"
Smart devices and smart factories, virtual reality (VR) and artificial intelligence (AI), content streaming, autonomous vehicles, and 5G…these capabilities are seeping into every industry around the globe, and all require speed. Factories, retail outlets, schools, farms, wind turbine fields, and dozens of other organizations are looking for improved efficiency and lower costs, and bringing greater computing power and data storage closer to the source helps achieve both.
Here are some use case examples and the drivers behind them:
Healthcare. Among the drivers in Healthcare are faster diagnosis and treatment. Medical IoT devices at the Edge can assist in detecting conditions faster and earlier, giving doctors the ability to provide more timely diagnosis and treatment. With wearables, for example, Edge could move us away from reactive treatment and toward real-time predictive/preventive healthcare powered by AI. All while making sure patient privacy is always maintained.
Manufacturing. Drivers for manufacturing organizations are avoiding downtime, defect and cost reduction, and productivity improvement. Performing near-real-time analysis on the manufacturing floor improves operational efficiency, reduces waste and improves margins. Costly assembly line shutdowns, for example, can be avoided when IoT devices identify process deviations that otherwise would require off-line diagnosis.
Security systems. When it comes to security systems, Edge is being driven by the need to reduce latency and optimize the use of bandwidth. The data in motion-detection cameras is constantly streaming a signal to a cloud server; with Edge, each camera would house an internal computer to run the application and send footage to the cloud only on an as-needed basis.
The Future of Edge
The world's appetite for speed and the power of applications to improve how we do things will continue to drive the movement of data to The Edge. It is estimated that by 2025, for example, the IoT will comprise as many as 75 billion connected devices and equipment, a significant portion of which could be connected to an Edge solution.
While an initial goal of Edge computing may have been to reduce bandwidth costs for IoT devices over long distances, the growth of real-time applications that require local processing and storage will represent a huge portion of future growth. The commercialization of 5G wireless alone will accelerate the creation or support of real-time applications such as video processing and analytics, self-driving cars, AI and robotics.
What does that mean in terms of market size? According to one report, the worldwide Edge market will reach $43 billion by 2027, with Industrial, Energy, Utilities, Healthcare, Agriculture, Transportation/Logistics and other industries taking advantage of the opportunities it affords in terms of added capabilities and cost-savings.
What About Cooling?
In the Edge/Spine data center, you can't ask where all this is headed without asking the same about IT equipment cooling. Power availability and stability is just as critical, yet always can be provided. And once plugged in, all of these appliances get hot - and this heat must be removed.
Today we're seeing a continued surge in the use of liquid cooling – though when first introduced, it was feared by some as potentially dangerous. Liquid (water or refrigerant) has been proven to be safe and stable, and offers the benefits of reduced energy use and greater processing capacity. Two of the more common cooling methods for Edge deployments are row-based and direct-on-chip:
Row-based cooling – cooling units placed within the same row as IT enclosures – is a more efficient way to cool equipment compared to traditional room cooling because it brings heat removal closer to the source, minimizing "wasted" cold air
Two-phase, evaporative direct to chip cooling brings cooling even closer – directly on to the chip. Utilizing a non-corrosive liquid, this method uses 50% less energy, has 3 times the processing capacity, utilizes 50% of the space and has greater than 1000W cooling capacity than some other types of cooling
Liquid cooling is ideal for Edge/Spine data center installations because of its high efficiency and, in the case of closed-loop cooling, the ability to install with limited changes to infrastructure.
Edge Deployment Considerations
Ready to bring processing closer to where you need it? In essence, an Edge/Spine data center is simply a scaled down version of a more traditional IT facility, and everything required for a big data center is what you'll need in your Edge installation: scalability, flexibility, efficiency and security.
Specifically, here are the things you'll need to know before you plan your Edge system:
How many enclosures? The number of enclosures (cabinets) must be sufficient to support all installed components, and allow room for future growth
Where will the installation be located? Look for a location with sufficient available floor space – either an open space or enclosed room – and one that allows for proper clearance around enclosures and other structures
What are the environment's parameters? Identify the facility's ambient temperature and overall environmental conditions so that you to choose the best cooling method
How will components affect cooling and power? Know your expected component heat loads, their dimensions (to ensure adequate internal volume), and make sure that an proper power supply is available
How much accessibility is needed? In order to properly secure IT cabinets, you'll need to know what access to IT components will be required – how frequently and for how long. Also understand the scope of the facility's security
Additional considerations: You'll also need robust remote system monitoring and control, as well as fire detection and suppression
As the world's insatiable desire for sophisticated applications and speed continues unabated, so too will the movement of data processing to the Edge. In fact, we can expect to see more organizations bringing computing beyond the "the final mile," directly to wind turbines, mines, factory floors, subway stations – any place where faster computing and optimized bandwidth use will improve how we deliver on users' demands. Learn more about today and tomorrow's Edge and the solutions available for climate control and security by downloading our Edge Infrastructure Handbook.