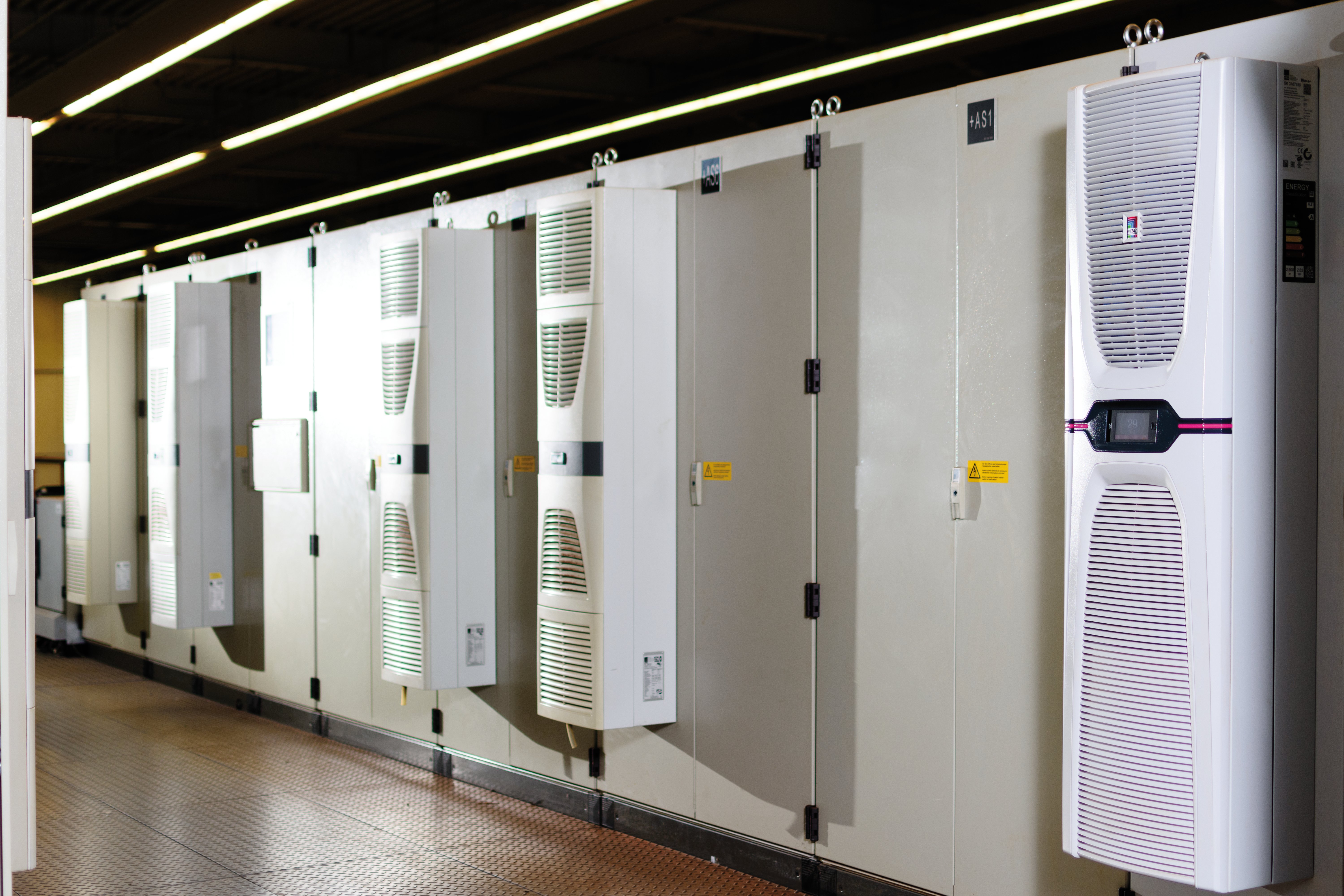 STIWA Automation GmbH, based in Upper Austria, takes the topic of environmental management very seriously as their energy consumption measurements are done on a regular basis. The results are surprising: In some cases, machines require less energy to operate than they do for air conditioning.
For heat dissipation from the control cabinets, the company is now relying on the energy-efficient cooling units from the Blue e+ series from Rittal. This is also an advantage for customers who must document their efforts in the field of energy management as part of an ISO 50001 certification.
"The savings potential of TopTherm on Blue e was already good, but with Blue e+ it has been exceeded again."
- Stefan Baier, Head of Product Management Electrical Engineering, STIWA Automation
STIWA builds high-performance machines that work with a cycle time of well under a second. Additional core competencies of the STIWA Group include product and software development for production automation, high quality metal and plastic assemblies subcontracting, energy-efficient building technology, and laboratory automation.
The company currently operates eight plants across Austria, China, U.S., and Germany. Components from manufacturers are required for operations in these plants to keep up with the intensity and extremely demanding applications in mechanical engineering. The company therefore carries out many endurance tests to ensure accurate manufacturer information.
Manufacturer Information Exceeded
The new Blue e+ air conditioning series from Rittal was also subjected to STIWA's endurance tests. STIWA has had a focus on energy efficiency of air conditioning units for years. The switch from Rittal Top Therm to Blue e was carried out a few years ago and STIWA was ready to improve their energy efficiency once again. A large machine consisting of approximately 30 air conditioning units enabled savings in energy costs: over the entire service life in the five-digit euro range.
When the Rittal Blue e+ devices were introduced, STIWA was initially very skeptical as to whether more savings were possible. This was followed by the company's own tests in the production environment in order to check the values ​​of 75 percent energy savings specified by Rittal. For this purpose, Blue e+ devices were installed in various cabinets and the values ​​were measured.
Hybrid Cooling As The Key
Using the new hybrid technology devices resulted in enormous savings, i.e., the interaction of a compressor cooling device and a heat pipe. Neither a compressor nor a pump is required for cooling with the passive heat pipe - this means that energy consumption is very low. The compressor is only used when passive cooling is no longer sufficient.
Since all of the compressor cooling drives are speed-controlled, their operation is also very energy-efficient. The highly efficient devices have additional advantages: Due to their multi-voltage capability, they can be operated flexibly in all networks commonly used around the world and the project planning effort is lower.
Fit For Certification
With the machines, STIWA supports customers with certification in accordance with ISO 50001. Although individual machines cannot be certified separately for this, the customers are provided with the necessary key data. In addition, the company guarantees that only components from manufacturers who are also active in terms of energy management, as is the case at Rittal, are used.
Watch the video on Climate Analysis to learn more about how you save energy and reduce costs or be proactive and sign up for your climate control efficiency analysis today.