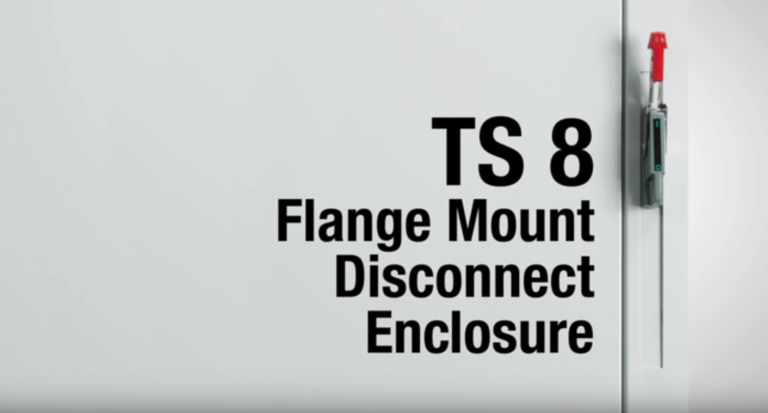 Keeping your staff from opening a powered enclosure is one of the most secure safeguards you can establish for them and your company. Rittal is one of the few manufacturers of a Flange Mount Disconnect Enclosure that truly meets the UL508A Standard, the standard for the construction of Industrial Control Panels.
How does Rittal do it? Simple – if the Slave Door is open, the Master Door cannot be closed and power cannot be turned on. The Master Door can be closed and the system powered on only when all of the Slave Doors are closed.
It seems like such a simple thing, but yet only Rittal has perfected the design. Here's how:
The Slave Door Interlocking Kit provides the means to lock the slave door while the master door is closed and the power is on. It also prevents the Master Door from closing while the Slave Door is open and unsecure.
The Interlock Activator allows the activator kit to work properly by latching and unlatching slave doors when required.
The Adaptor Plates ensure compatibility with most commercially available operator handles and allow upgrades and modifications without performing additional cut outs in the field, all while maintaining Type 12 rating.
The Defeater Lever provides safety locking between most common operator handles, enclosure and door. Assembly is very simple with just two screws while the door is open the activator bracket synchronizes the enclosure door latch with the operator handle. This allows the enclosure to be powered on only when the door is latched, as well as lock the internal doors in the event the main door is unlatched. This lever is factory installed.
The Connecting Rod connects the Defeater Lever to the Activator Bracket and provides simple adjustments for the Adaptor Plate and Operator Handle selected. This allows quick and easy installation with the Flange door open.
Rittal's Flange Mount Disconnect enclosure meets Requirement 66.1.3 from UL508A Standard for Enclosure Safety. Does yours?
Watch the video here.
About the Author:
Steve Sullivan is a Training Supervisor at Rittal Corporation where he oversees instructor-led, computer and web-based learning and development. Steve joined Rittal in the fall of 1995 and has worn multiple hats, working in production control and tradeshow management, in addition to conducting sales training for both the industrial and IT business divisions of Rittal both in the US and abroad. Steve's many accomplishments in his 20+ years include the creation of Rittal University Online and being the North American contact for Rittal's Global Trainer Network. Steve holds his Bachelor of Science in Psychology from Wright State University and a Master of Business Administration from University of Phoenix.