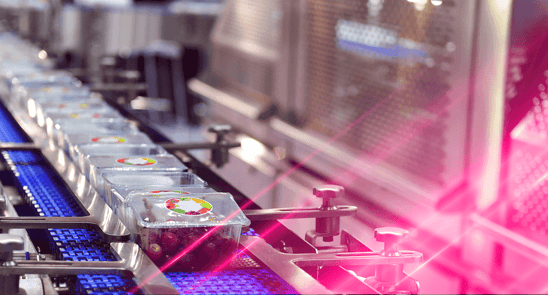 Adapting to a new normal can be challenging. If there's one thing food and beverage producers have learned during the last 18 months, it's that today's food and beverage consumer is more informed, concerned, and curious about how the products they consume are produced, packaged, and delivered.
The COVID-19 pandemic has only served to heighten consumer awareness on the safety and sanitation practices of food plant production, the degree of eco-friendly processes used in production, and the desire for healthier food and beverage products. In fact, a recent report signaled the primary concerns for consumers going forward are:
Where food and beverage products come from
Ingredients used in production
Environmental impacts of production, storage, and delivery
What's even more interesting about the current state of the food and beverage landscape is that research indicates more than 4,000 early-stage technology companies are making their entry into the market via the food and beverage industry. For food and beverage producers, this could signal opportunities to adopt new technologies that help automate tasks or streamline operations. Whether it's transparency, sustainability, or developing new products, today's food and beverage producers will need an industrial automation partner to help them adapt to changes in a very competitive marketplace.
On creating transparency
80%. That's how many consumers recently surveyed by the Food Industry Association (FMI) reported that transparency in food and beverage shopping is of the utmost importance to them. In addition, another recent study indicated that 56% of consumers actively look for and seek information on the working and production conditions of food plants.
Tie these two statistics together and the question that looms large is: What can producers do to increase levels of transparency and ensure that the necessary plant conditions, equipment, and technology are in place to foster the highest degrees of safety and sanitation?
Rittal's hygienic design line of enclosures and climate control systems specifically designed for use in the food and beverage industry is the first step in answering this question. Designed and engineered specifically for use in the food and beverage space, the hygienic design features of these products allow for easy cleaning, with adequate runoff to avoid contamination or corrosion.
Pair hygienic design enclosures for high hygiene zones with Rittal's NEMA-rated IP66 TS 8 modular enclosures and IP69 stainless or carbon steel wallmount enclosures for medium and basic hygiene zones to achieve the durability, safety, and superior cleanability necessary to comply with FSMA regulations while adhering to the requirements stated in UL safety standards necessary for global production viability.
From a cooling standpoint, Rittal's air-to-water heat exchangers are equipped with 30° angled roof design, water-resistant and joint-free seals, water connection flexibility, and smooth external surfaces to reduce dirt and foreign contaminant buildup. In addition, our hose-proof air conditioner hoods offer stainless steel, slope-top construction to provide a higher protection category when fitted over a fan-and-filter unit.
With these enclosure and climate solutions in place, food and beverage producers can cross concerns about safety and sanitation off their lists, and speak loudly and proudly to their consumers about their hygienic design framework.
A focus on sustainability
The concept of sustainability has transcended that of an industry buzzword and arrived as a top consideration for food and beverage producers as they work to unlock and leverage operational efficiency. Yet, so many producers still lack the visibility and insight into their internal architecture to identify areas of inefficiency and improvement.
Rittal recently conducted a climate analysis for a major North American automotive manufacturer that discovered 25 cooling units out of 225 deployed in one facility were defective. This deficiency significantly reduced overall cooling efficiency, increased the burden on the rest of the cooling units, and resulted in sizable increases in energy consumption and cooling costs.
This should be a cautionary tale to the food and beverage industry, where control of and optimal cooling outputs is not merely a matter of energy consumption and cost but also the mission-critical task of combating food spoilage.
Rittal's Blue e+ line of cooling units reduces energy usage by 75% while increasing the ability to monitor and adjust cooling outputs for the safety of food and beverage production lines and the electronics that power these productions. Network alerts, remote monitoring, touchscreen interface, and mobile connectivity help producers more accurately and adeptly manage their climate control strategy with a few simple clicks.
As food and beverage producers align more closely with IoT and Industry 4.0 principles, companies will require more robust IT networking structures in order to gather and process data nearest the edge. This IT network may also require the deployment of modular data centers housing sensitive IT racks that require precise, sustainable cooling. Rittal's Liquid Cooling Package (LCP) for data management systems creates a larger, more consistent stream of cooling compared to more conventional cooling for the flexibility and power to create optimized, targeted cooling to extend the life of your electronics.
Demand for alternative products
Consumers drive demand. The needs and desires of consumers shape the products companies create, and the food and beverage space is certainly no different, especially when it comes to something as personal and unique as food and beverage choices. As with our discussion of sustainability relative to energy consumption, today's consumer is also looking for sustainability in terms of holistic food systems.
Enter the rise of plant-based meat products such as Beyond Meat and the Impossible Burger, or dairy-free alternatives to milk and cheese such as Silk and Daiya. The end result is a plant-based food revolution that is grabbing notable market share on a global stage. There are several factors that account for the rise in plant-based alternatives to meat and dairy products:
Human health
Climate change
Preservation of natural resources
Animal welfare
Each of these variables signals a major shift in what consumers want from food and beverage production. What this means for food and beverage producers is that they must now be agile enough to operate multiple production streams at multiple sites with the same safety, sanitation, and production standards to which their consumers have grown accustomed.
This kind of maneuverability requires innovative panel and enclosure design and engineering. Rittal's partnership with EPLAN provides more insight than ever before into each stage of the enclosure design and production process and Rittal Automation Systems enable producers to create an automation architecture that eliminates manual tasks, reduces redundancies, and leverages opportunities for process optimization across the production cycle.
The ability to rapidly design, modify, assemble, and deploy a standardized panel or climate control solution will be essential in helping producers become less reactive and more proactive in a global, competitive landscape, and that makes Rittal the partner of choice in the food and beverage industry.
Learn more about shifting consumer attitudes in the food and beverage space by downloading our Consumer Insight Report: How a Global Pandemic Changed Consumer Attitudes About Food Plant Safety.