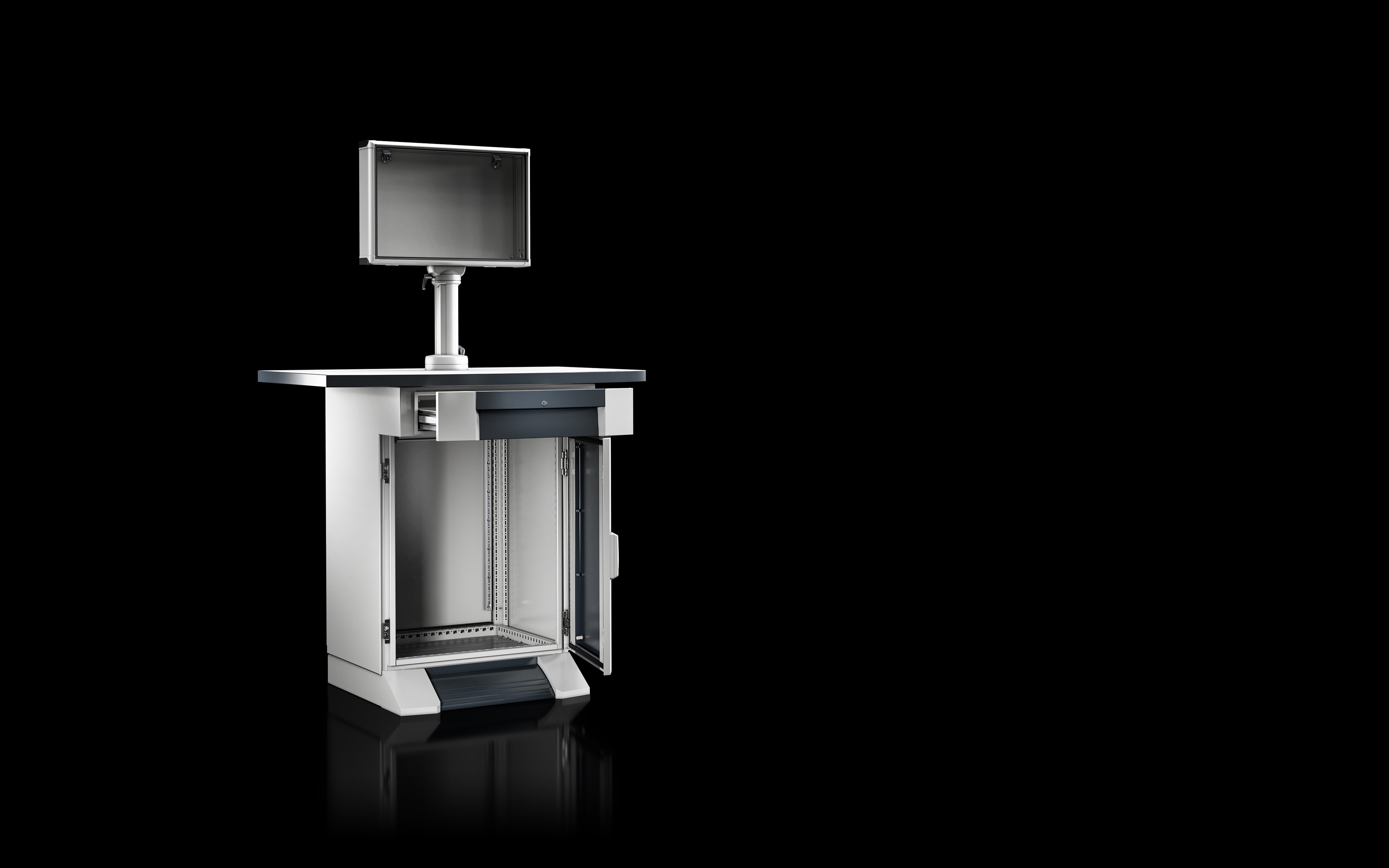 In so many of today's manufacturing industries, floor space is at a premium and reducing the automation footprint is a top priority. A dominating concern is choosing an industrial enclosure or climate control system that makes the most out of the limited floor space. While these and other automation elements are critical to consider when designing a space-saving industrial automation infrastructure, too often manufacturers neglect other space saving solutions. Industrial workstations, being a key solution, can play an important role in reducing the footprint of automation equipment and optimizing the configuration of the factory floor.
One of the biggest obstacles manufacturers encounter today is the varying options and philosophies in designing and engineering industrial workstations compared to other industrial automation equipment like enclosures or cooling units. Finding compatible, flexible industrial workstations can be a struggle. Identifying a solution that takes the same modular design principles of industrial panel and enclosure design then applying them to engineering a workstation is ideal. That is the driving force behind Rittal's new Industrial Workstation, a solution that is durable, flexible, and offers seamless integration with any automation system, regardless of industry application.
Compared to other workstation solutions, the new design of Rittal's Industrial Workstation provides manufacturers with several key advantages that help plant and facility managers achieve increased levels of productivity including enhanced safety procedures and extended workstation service life.
Available in five different modular configurations, the new Rittal Industrial Workstation provides these four key features:
Improved design features
No gaps between the side wall and the frame of the enclosure and / or the workstation
Increased protection against the ingress of dirt and moisture due to design elements
Reduced likelihood of unauthorized entrance that helps enhance overall security and increases holistic protection of automation infrastructure
Ultimate compatibility
Offering a variety of extension options with VX SE floor and interior TS 8 accessories that help reduce the complexity of operating an industrial workstation throughout the factory floor.
Enhanced level of compatibility helps in reducing the likelihood of downtime and disruptions from pairing incompatible workstations with industrial cabinets.
Allows for more flexibility with cable configuration, wiring, and more.
Seamless integration
Integrates with a variety of enclosure solutions including

Rittal's Support Arm

and operating housing.
Eliminate manual processes, increase efficiency, and enhance precision of the production line with faster and easier pairing of Rittal's ergonomic

Human Machine Interface (HMI) solutions

.

Combine the workstation with other Rittal products including worktops, base / plinths, and double castors to help maximize operations.
Consistent data generation
Engineers can achieve a comprehensive understanding of their processes to help in identifying potential inefficiencies or gaps in the design and engineering sequence.
Reduce time, improve task efficiency, and lower cost by engineering the right product or solution for any given application with consistent data generation.
Applying a data-driven approach to configuration and operation is critical for companies to work faster and with more precision. Rittal's Industrial Workstation helps manufacturers accomplish these goals while making the most of their production room floor. Learn more about how the RIttal Industrial Workstation can help you optimize your production processes.