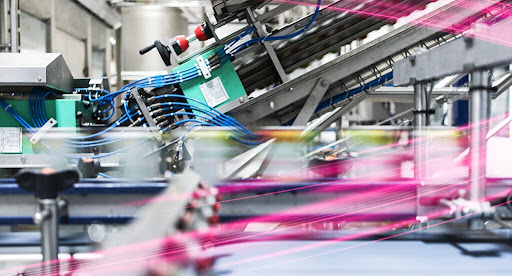 If there's one up-and-coming conversation for automation architects in today's manufacturing space, it's the need to reduce the physical space industrial automation solutions take up on the production facility floor. This might seem counterintuitive given the compact nature of many smart technologies available today, but there is a lot of legacy equipment on factory floors.
The need to conserve space often stems from production facilities reworking a production line, upgrading equipment, or other unique or non-traditional specifications for how automation solutions are housed or mounted on the factory floor.
To complicate the matter, today's manufacturers are often running various production lines in one facility to keep up with shifts in consumer demand and increase the speed with which they can bring new products to market. This leaves automation architects struggling with how to maximize space on the production room floor without sacrificing the mission-critical industrial automation tools — industrial enclosures, climate control solutions, and power distribution systems — necessary for optimized productivity and efficiency.
In this blog, we'll examine the considerations manufacturers should address when striving to achieve maximum space efficiency on the production room floor.
What kind of industrial enclosures help ease space constraints on the factory floor?
In creating an industrial enclosure framework that helps reduce space on the production room floor, manufacturers have a handful of challenges to overcome, but the three most pressing obstacles are:
The acceleration and proliferation of industrial automation solutions in any given manufacturing environment means more enclosures and cabinets, air conditioning units, conveyors, and other forms of industrial automation equipment and accessories on the actual facility floor.
Manufacturing in today's landscape takes place in more varied production environments in more locations across the globe, each with its own set of unique enclosure deployment specifications; however, many manufacturers simply don't have the versatility with their industrial enclosure solutions to respond or adapt to these unique contexts.
The rigidity of legacy industrial enclosure solutions often leaves manufacturers without the flexibility that comes with a modular design philosophy in order to configure control panels based on the scale of production needs. This lack of flexibility makes it difficult for manufacturers to integrate enclosures into existing frameworks with a space-conscious mindset.
This is where our TS 8 modular enclosure unlocks increased flexibility through modular frame structures that create both inner and outer mounting levels inside the cabinet for more electronics to be housed within the enclosure. Increased opportunities for baying on all sides of the enclosure allow for integration into spaces with size limitations, and a variety of connection configurations make for easy cabinet wiring regardless of how the enclosure is deployed. In addition, the TS 8 offers 30% more stability with 15% less frame weight without sacrificing protection or reliability.
In production environments where square-footage is at a premium and baying enclosures are not applicable, our VX SE Free-standing Enclosure System can replace up to three baying enclosures without sacrificing IP 66 and NEMA 4/4X production and durability. The space-saving nature of the VX SE allows system integrators to scale based on demand or space constraints of the production room floor. The VX SE offers a wide range of dimensions with widths up to 1800 mm to replace up to three baying enclosures and depths as shallow as 300 mm for confined production applications.
For production facilities with unique enclosure deployments, our line of stainless steel wallmount enclosures are compatible with a variety of mounting positions while also providing the durability to prevent corrosion and protection against harsh environmental conditions, making the wallmount line ideal for indoor and outdoor use.
How can smart climate control units conserve factory floor space?
Given the expansive nature of today's manufacturing facilities, companies often rely on hundreds of cooling units to provide adequate cooling outputs for the electronics that drive automated manufacturing — this is particularly true in the automotive industry where production operates on a 24/7 basis. The sheer number of cooling units in operation not only means more space is used on the floor, but it also means more personnel on the floor to maintain, monitor, or troubleshoot these climate control systems.
With smart, automated cooling systems, manufacturers can reduce the number of climate units, the necessary personnel to maintain them, and thus the square-footage of factory floor space dedicated to operating an optimized network of cooling units. For example, our wall mounted Blue e+ line of cooling units utilizes innovative, hybrid cooling technology to provide high output, targeted cooling where it's needed most to help reduce the number of cooling units manufacturers need and the space necessary to house them. The variable mounting nature of the Blue e+ also allows manufacturers to be more creative and flexible with how factory floor space is allocated.
The Blue e+ with IoT interface uses Industry 4.0 and IoT principles to create a unified network of climate control units where cooling output can be monitored via remote capabilities. In addition, network alerts and detailed cooling unit performance data allows maintenance engineers to oversee and alter cooling outputs and unit operation without ever having to be on the production floor.
Combined with the ability to reduce energy costs by up to 75%, the Blue e+ is the smart, space-saving climate control system manufacturers need to maximize their efficiency potential.
How can busbar power distribution units help free up factory floor space?
The global shift to busbar power distribution systems for industrial panels and enclosures helped manufacturers pivot from traditional wiring frameworks that were fraught with such challenges as complex installations, time-intensive repairs, and increased downtime and costs from regular maintenance and repairs.
But the move to busbar power distribution has also helped manufacturers reduce space on the factory floor in the form of increased wiring capacity within the enclosure and more flexibility with how wires and panels can be configured inside the cabinet. Because busbar power distribution systems are less bulky and rigid in terms of configuration than legacy power systems, manufacturers can populate their enclosures with more electronics and reduce the number of industrial enclosures necessary to power certain elements of any given production line.
Rittal's busbar power distribution takes flexibility and versatility to the next level by supporting copper busbar dimensions from 12 x 5 mm up to 120 × 10 mm. Rittal's busbar power distribution comes in the form of customizable plug-ins and component adapters that are modular in nature for custom configuration. This level of customization helps panel builders more efficiently use the space within the enclosure to reduce their overall equipment footprint on the production floor.
Maximizing the space of your manufacturing facility floor begins with choosing the right solutions for your application. View our on-demand webinar to learn more about how to identify the ideal industrial enclosure for your automation needs.