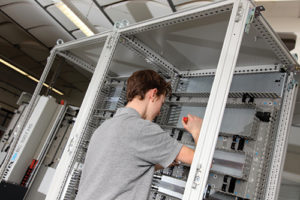 As your engineering team researches enclosure options, a primary consideration should be labor costs for performing basic tasks, including mounting panel installation, door reversal, lock replacement or in-cabinet maintenance. Safety is another consideration. Due to the weight of the enclosure, many maintenance crews require heavy equipment like forklifts or cranes to move and install enclosures. It's important to note that choosing between unibody or modular enclosure designs greatly impacts the resources needed to perform and support these tasks.
Finding enclosure designs that enable quicker installs and rapid modification delivers value to your business with labor savings, more uptime and improved safety. Modular enclosures reduce total use cost over the lifetime of the enclosure.
Unlike unibody enclosures, modular designs feature removable side and rear panels and easily reversible doors, so the entire enclosure does not have to be moved to modify individual side and rear walls. If, for example, a side wall must be modified to accommodate an AC unit, the panel can be removed and taken to the shop. No forklifts, chains or hoists needed. Modular enclosures are designed for quick maintenance and custom designs. In comparison, a welded box makes it difficult to modify and create space for accessories. This can limit the service life of the enclosure.
When considering enclosure designs, look for hand tool or tool-less assembly options like door locks, side wall brackets or plinths. These features highlight labor savings and future-proof design that enable ongoing modifications and an extended service life. And again, with modular enclosures and accessories, you can do many of these things with one-person, simple hand tools, and in many cases no tool. This enables your staff to change things around rapidly as you expand or specs change.
With its modular design, Rittal has thought through all these issues to ensure its customers save time and use less resources. For example, with the installation and removal of a mounting panel, Rittal designed it to slide out on two rails after the removal of only two screws (just one person needed!) so you can easily configure for additional switchgear controls. Additionally, reversing the door from one side to the other can be done in less than five minutes, whereas other manufacturers don't allow that flexibility, or it takes much longer.
Here are a few other examples of engineering innovations created with the user's efficiency and ease of use in mind:
Easy door removal to work inside the cabinet or to modify with cutouts and holes for controls

Easy door and lock reversal with captive hinges so parts don't get lost

Tool-less panel bracket removal and positioning to give you more cabinet depth

Grounding worked into mounting hardware, so side and rear panel installation automatically bonds the entire unit
More Handy Tips & Tricks
When it comes to installing something for the first time (or even the tenth!), many of us turn to YouTube for handy "How-to" videos instead of leafing through instruction manuals, which can add time to your install. Make sure to check if there are videos to help you quickly install or see handy tips and tricks in action. For example, Rittal has over 20 how-to installation videos (and counting!) that have saved our customers valuable time.
Saving time by designing easy to install enclosure systems is just built into Rittal's engineering savvy. Reconsider spending days installing your enclosures and talk with us. We'll help you work with your specs and create a solution with all our time-saving elements built in so you can quickly assemble and move on to other important things.