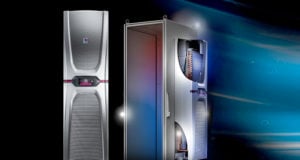 Energy savings is top of mind these days, especially when it comes to efficiently cooling industrial enclosures. We understand that you've got to not only protect the sensitive components inside your enclosures from heat, but need to do it in an energy efficient and cost-conscious manner. That's why Rittal created the ChillZone app, an energy savings estimator for its Blue e+ line of industrial enclosure cooling solutions.
The app lets you easily compare annual cost savings between an existing system and Rittal Blue+ products. What's more, you can even compare specific competitive products by inputting a specific product number or that product's average energy efficiency ratio (EER).
All you have to do is input data specific to your application, including:
The climate zone you're in (which is used to estimate the Seasonal Energy Efficiency Ratio or SEER)

Model selection

Output category

Hours of operation/shift model

Local electric kWh rate

Number of operational units

If you so choose, you can add a specific product number or average energy efficiency ratio (EER) of a competitive product
The above info is used to calculate the energy costs in US Dollars of an existing system vs. Rittal's Blue e or Blue e+ system (or if you so choose, between Blue e or Blue e+ and a specific competitive product).
The app even serves up applicable regional rebate offers and gives you the option to immediately request more information from Rittal. The idea behind the Chillzone app is to make it easy for you to find the industrial enclosure energy savings you need.
Check it out today. The ChillZone app is available for immediate download in the Google Play™ and Apple® app stores.