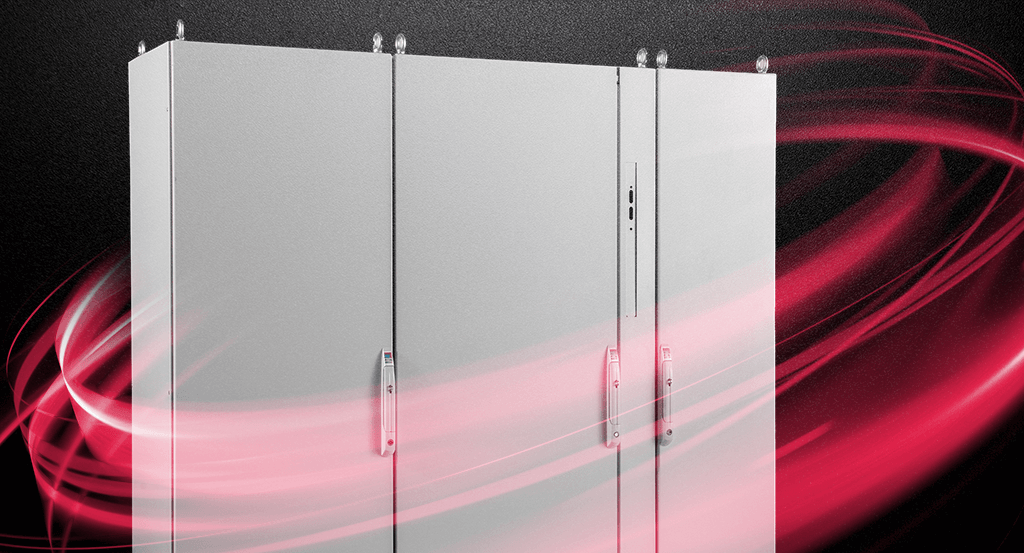 Even with advancements in technology and processes, the modern industrial space still comes with inherent hazards manufacturers must mitigate to help ensure the safety of their personnel, equipment, and production facilities. One of these hazards is arc flash, and a recent study showed that 3,000 to 5,000 employees annually suffer life-alternating injuries including permanent disfigurement and amputations.
While a large percentage of these incidents can be attributed to human error, manufacturers can take precautions against arc flash by choosing the right industrial enclosure solution to safely house low and high voltage controls.
Rittal's Power Isolation Enclosure Selector Tool optimizes the enclosure configuration and design process in just three simple steps to help engineers save both time and money. Let's briefly look at how arc flash occurs before we break down how the Power Isolation Enclosure Selector Tool works, and the benefits of using it to configure your ideal enclosure.
How does arc flash happen?
As defined by the National Fire Protection Association (NFPA), an arc flash is the sudden release of unexpected heat and light energy produced by electricity passing through the air like lightning. It is a phenomenon that is usually caused by the accidental connection between live conductors or between live conductors and the ground.
Typified by extreme heat, intense light, and a violent pressure blast, arc flash most commonly occurs around highly-energized areas such as control panels, disconnects, bus switches, motor controls, and starters, and more often than not these incidents take place when personnel fail to ensure equipment has been properly de-energized.
Workers exposed to an arc flash can sustain serious injuries typical of an explosion: severe burns, loss of vision and hearing, broken bones, head trauma, and even death. Isolating high voltage equipment and components can help to avoid these types of preventable injuries.
How does the Power Isolation Enclosure Selector Tool work?
Rittal's Power Isolation Enclosure Selector Tool helps engineers design their ideal industrial enclosure to separate low and high voltage equipment in compliance with NFPA 70E workplace safety standards. This online tool allows you to design the right power isolation solution for your specific needs and provides all required parts such as plinths, interconnect rods, partition wall and door handles for a complete power isolation enclosure solution.
Configuring the right power isolation enclosure for your application can be completed in just three simple steps:
Define the isolator enclosure dimensions necessary for your application. Input your desired height (options from 1400mm to 2200mm), width (400mm to 600mm), and depth (400mm to 800mm).
Choose the disconnect enclosure that best fits your needs for housing electronics. This enclosure is partitioned from the isolated enclosure. It will house the cable-operated disconnect handle and is considered the main control enclosure.
Choose the low and high voltage enclosure that is compatible with your dimensions and application. This enclosure is partitioned from the disconnect enclosure and will house low and high voltage controls.
What are the benefits of the Power Isolation Enclosure Selector Tool?
Automation architects need to reduce the time it takes to configure enclosures, decrease the likelihood of design errors, and reduce the overall costs associated with the enclosure design process. The Power Isolation Enclosure Selector Tool helps electrical engineers achieve each of these tasks through:
Significant time savings due to a simple configuration process
Eliminating errors when selecting accessories or machining options
Ability to download a complete error-free system BOM
Registration/ log-in access to pricing

Access to the Rittal distributor locator tool and the ability to instantly e-mail the completed BOM
Because Rittal's power isolation enclosures are part of the TS 8 family of modular enclosures, engineers will experience superior configuration flexibility via interchangeable panels and baying capabilities, which help manufacturers bring enhanced levels of electrical safety to any application. Rittal's TS8 Flange disconnect Enclosure, as part of the power isolator line-up, offers a variety of innovative design features to help prevent arc flash, including:
Adapter plates for low and high amperage disconnect handles
Slim flange trim door for easy assembly and integration
Enclosure door defeater mechanism and interlocking hardware to ensure the Isolation
Plus, accessories available on our website such as viewing windows, external fold-down shelves, external data pockets, interface flaps, and extensions allow for data retrieval, equipment monitoring, and routine maintenance without exposure to arc flash hazards.
Try the Power Isolation Enclosure Selector Tool and see how quick and easy it can be to configure a safe enclosure for any application.