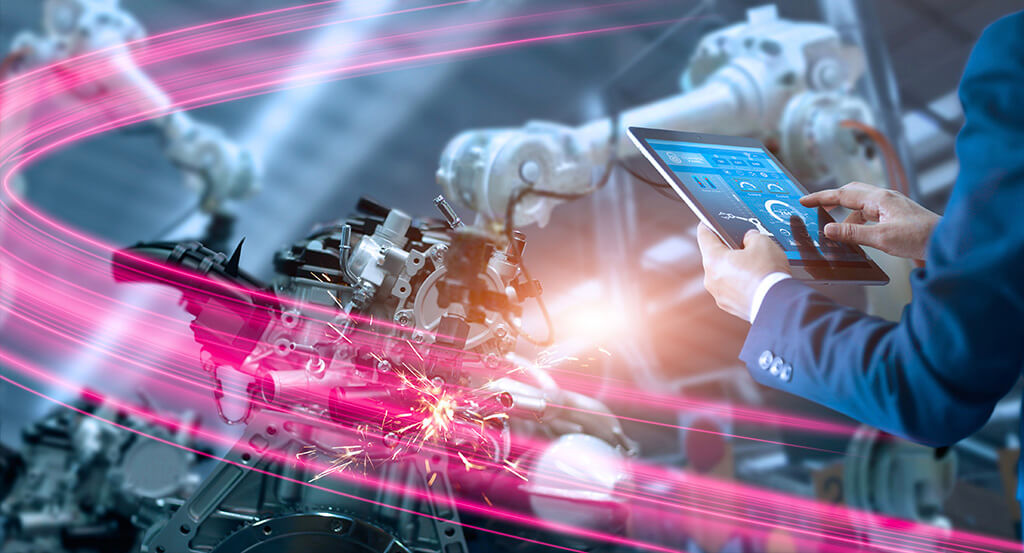 The automotive industry is undergoing exciting developments in 2021. From the rise of collaborative robotics to an increased focus on sustainability, automotive manufacturers are recovering from the challenges of the past year while fostering innovation. Here, we discuss the top five emerging trends in the automotive industry.
1. Collaborative Robots (Cobots)
A top trend in automotive manufacturing is the use of collaborative robots — also known as cobots — that work hand-in-hand with automotive plant workers. Cobots are equipped to take care of manual, repetitive, and potentially dangerous functions that reduce risk for human workers. According to Saint-Gobain, a multinational manufacturer of industrial materials, cobot technology is the fastest growing aspect of industrial robotics.
By creating an assembly line of UR10 cobots, European auto manufacturer PSA Group was able to produce 200,000 cars within a year with no reported failures, experienced a significant cost savings, improved ergonomics for human workers, and saw a 10% improvement in geometric dimensioning & tolerance (GD&T).


2. Automotive Digital Retail
The pandemic has given rise to all types of e-commerce — including car sales. Without the burden of showroom costs, online automotive retailers are able to offer competitive prices on high-ticket items like cars.
Major manufacturers like BMW, Mercedes Benz, Jaguar Land Rover, Ford, Hyundai, and more feature an online sales platform to sell cars online, either directly or through dealerships. By adopting digital sales models, automotive manufacturers are creating omnichannel customer experiences by increasing the number of ways that consumers can buy the cars they make.


3. Emission Reduction and Sustainability
Led partly by an increase in consumer demand, automotive manufacturers are moving toward greater sustainability both in their products and in their processes within their plants. From the increase in production of electric cars to more sustainable practices within manufacturing facilities, reducing environmental impact is expected to remain a top priority for years to come.
Ford Motor Company is an excellent example of an auto manufacturer that is leading the charge on sustainable practices. In 2020, the company announced its Carbon Reduction Strategy. In an effort to increase energy efficiency and lower emissions, the company set a goal to run every one of its plants on 100% renewable energy by 2035. Just recently, Ford announced that it expects electric vehicles to make up 40% of its production by 2030, a increase by about a third from its previously announced plans.
Since the year 2000, the company has:
Reduced its global energy use by 30%
Reduced CO2 emissions in factories by 39%
Reduced water consumption by 43%
Improved energy efficiency in its U.S.-based plants by 4.5%
By taking sizable efforts to reduce their carbon footprint, Ford reports that it has enjoyed significant cost savings — $18 million in savings, so far.


4. AI-Powered Supply Chains
Powering the automotive industry are fast-moving, global supply chains. Efficiency in logistics is key, as potential breakdowns along the supply chain can be costly. By leveraging the benefits of artificial intelligence (AI), manufacturers can gain predictive visibility into their supply chains, from planning and design to inventory management and tracking.
By harnessing the data that nearly every part of the production process now generates — and implementing IoT principles to analyze that data and take action based on it — manufacturers can automate new requests for parts, labor, repairs, and more.


5. Predictive Vehicle Technology
Another emerging trend in the automotive sector is predictive vehicle technology, which is a type of automation that uses AI and machine learning to alert drivers when their vehicle needs maintenance. Auto manufacturers are implementing predictive vehicle technology into their products with the use of algorithms that leverage data for automation.
This automation trend includes sensors that can predict vulnerabilities and potential defects in components or devices before they begin to break down and then notify the user of the need for service. Advancements in automotive technology such as machine learning, which digests large quantities of data and quickly learns patterns from them, has driven this trend forward.
From leveraging the power of AI to detect automotive defects ahead of time to the use of cobots to increase safety and efficiency in plants, the automotive industry is experiencing an exciting time of innovation. Rittal is at the forefront of Industry 4.0, supporting industrial automation through products like our NEMA-rated enclosures, our energy-efficient climate control solutions, and Rittal Automation Systems.
Download our case study, Automation Systems and Digitalization Enable Electro-Matic to Provide Streamlined Solutions, to learn how Electro-Matic uses Rittal enclosures and Rittal Automation Systems to create single-part power distribution panels for a major North American automotive manufacturer.