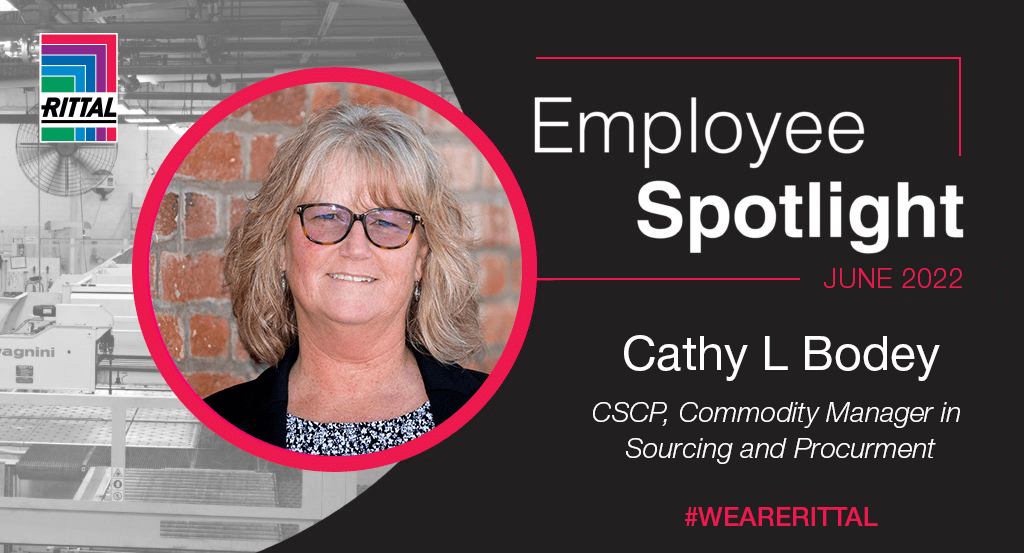 Cathy shows true enthusiasm for her career and the people around her. Over her years in the industry, she has continued to build her expertise in supply chain through gaining certifications, bringing that knowledge to improve processes where she can. She cares deeply about the people around her, gaining inspiration from her sister, and helping others in her life. Cathy is appreciated for all the work she's done for the company and in her relationships, both professionally and personally.
How long have you worked at Rittal?
I just celebrated my 21-year anniversary in March!
Tell us about your education and career leading up to your current role. What did you study, and what other roles have you held?
I've been involved with the Association for Supply Chain Management (ASCM, formerly APICS) for over 30 years and am a Certified Supply Chain Professional (CSCP) through the ASCM program. Early on in my career, I spent 10 years in a manufacturing environment in several supply chain roles. After enjoying a few years in Marketing, I was recruited by Rittal for a Production Planning position. Shortly after joining Rittal a restructure landed me into Procurement which I have loved ever since. Over the years, I've sourced and purchased most everything that makes up our enclosures and am currently responsible for all indirect spend.
What inspired you to pursue a career with Rittal?
The endless opportunities for learning and growth with a global company; and the people — they are what make Rittal a great place to work.
What's the coolest project you're currently working on?
At Rittal we have a consumable cost savings team we refer to as "CSI, Rittal NA". It's a cross functional team that I've had the pleasure of leading for the last 2 years. The team solicits random ideas from employees and does the leg work to improve processes and ultimately save the company money. We have worked on as many as 50 ideas at one time. Projects range from having bulk gas tanks installed to optimizing the way abrasives are used. It's a great way to engage with other Rittalers that we wouldn't normally interact with in our daily jobs.
Who or what inspires you?
My sister Connie is an inspiration; she has survived stage 4 cancer. She manages to keep a smile on her face and continues to work. Throughout our lives, she has taught me to find the good in every situation and to turn adversity into opportunities.
Do you have any advice for new hires at Rittal?
Be an insatiable sponge for knowledge and be open minded for the endless opportunities to learn and grow.
What does true leadership mean to you?
Transparent and consistent communication as well as matching actions to words.
What's been the proudest moment of your professional career?
Aside from receiving my CSCP certification, I'd say the proudest moment was completing the installation of a machine that produces right sized boxes just in time for our assembly lines. It was a fulfilling project with tremendous rewards.
What do you do for fun?
I love to travel and I'm always up for a spontaneous adventure. We spend weekends at our lake home boating with family and friends. Rittal provides freedom and flexibility to allow me time for the things I am passionate about. Last year, I started my own company and enjoy helping small businesses with marketing.
Join our team and discover how rewarding a career with Rittal can be!