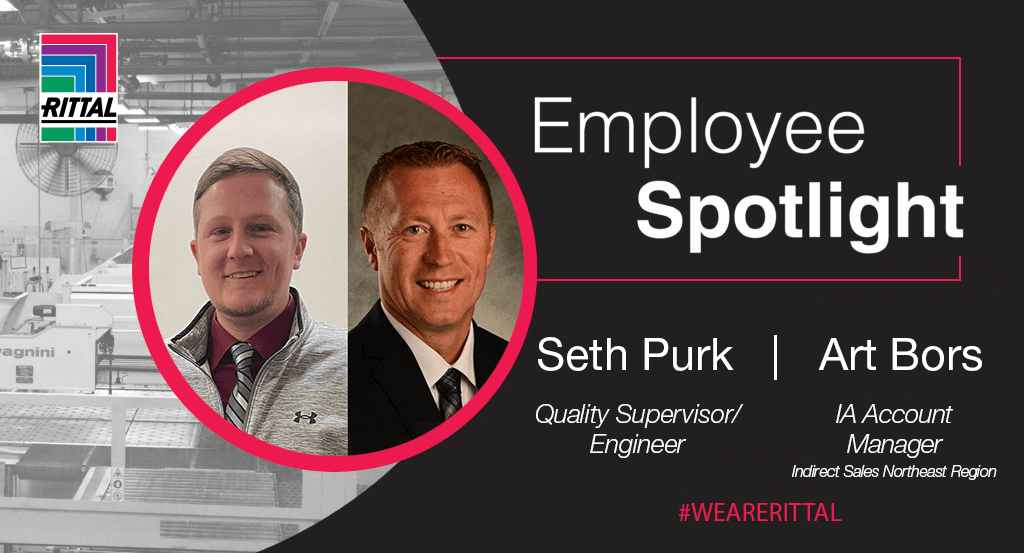 This month's installment of We Are Rittal is a special one because we're showcasing two Rittal team members, Seth Purk and Art Bors. Seth is a Rittal Quality Supervisor/Engineer, and Art is our IA Account Manager, Indirect Sales, Northeast Region.
Even though Art and Seth occupy very different roles, they both bring unparalleled commitment and dedication to their jobs every day, and we couldn't think of two better Rittal team members to share this edition of We Are Rittal. First, we'll get to know Seth, and then we'll get better acquainted with Art.
Seth Purk: Rittal Quality Supervisor/Engineer


How long have you worked for Rittal?
I have been with Rittal for a little more than three years.
What inspired you to pursue a career with Rittal?
I was looking for a company where I could build a foundation and grow. At the time I interviewed, Rittal was in the process of rebuilding the Quality Department. It was an excellent opportunity to join the team and be a part of the future of Rittal.
Who or what inspires you?
The people who inspire me the most are my parents. They have always been my biggest supporters and have given me the courage to battle through obstacles in life. I wouldn't be the person I am today without them.
Do you have any advice for new hires at Rittal?
The most extensive advice I could give someone new to Rittal is to have patience and give it time. There will be times that you will be overwhelmed or fail, but don't shy away. It takes time to understand Rittal's processes, but always lean on your peers and leadership to help you prevail. We are all one team with the same goals.
What does true leadership mean to you?
A true leader has personality, courage, and a clear vision with ambition to succeed. These individuals challenge their team to perform at a high level all the time and drive organizational success. They view failure not as a defect but as a learning tool for improvement. These individuals don't focus on themselves; they strive to make everyone else better.
What do you do for fun, or do you have any hobbies?
I play on a men's softball team that travels around the tri-state area and competes in weekend tournaments. I am also a huge Ohio State and Columbus Blue Jackets fan and I attend many games. Outside of that, I enjoy having family and friends over for cookouts and bonfires
---

Art Bors, IA Account Manager, Indirect Sales, Northeast Region
How long have you worked at Rittal?
I have worked at Rittal for more than 10 years.
What inspired you to pursue a career with Rittal?
While working as a manufacturer's representative, I was introduced to Rittal. I quickly saw the value in Rittal's modular enclosures and how the brand could differentiate itself from the traditional welded gray box.
What originally drew you to Rittal? And how has Rittal changed since?
I wanted to be part of the modular enclosure solution for panel shops, OEMs, and systems integrators. The partnering of EPLAN and RAS Systems shows we all work for an innovative company constantly striving to offer state-of-the-art automation solutions.
What's something about you most people don't know?
My wife and I are the proud parents of beautiful, twin five year-old towhead boys with special needs/autism.
What do you do for fun, or do you have any hobbies?
I love the outdoors, showing our extraordinary twins the joys of fishing, swimming, hiking, and riding our ATVs.
Join our team and discover how rewarding a career with Rittal can be!