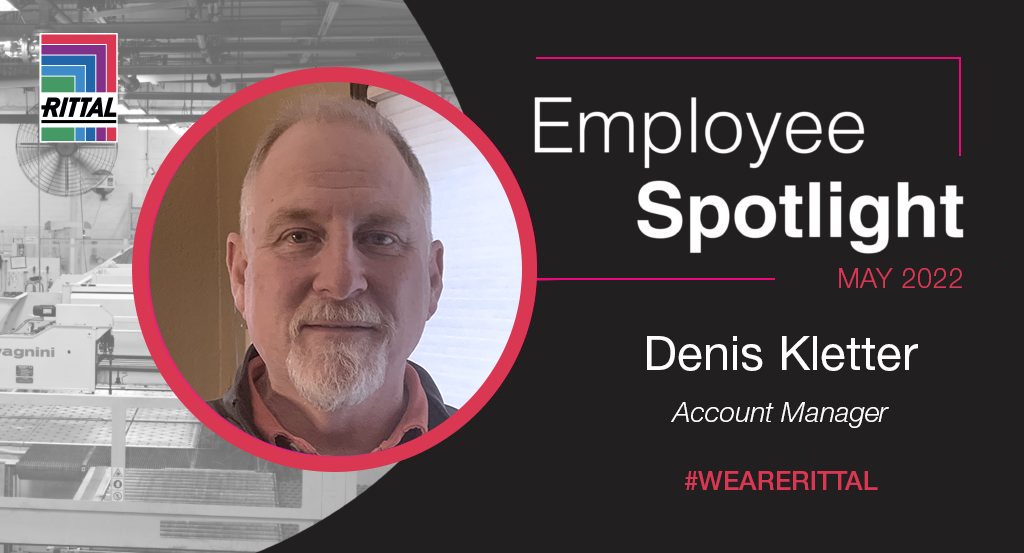 Denis is passionate about his career and building lasting relationships. This is evident in his interactions with customers and coworkers alike as he strives to help ensure everyone is reaching their goals. His experience in both the electrical industry and as a security integrator has helped him grow in his career while helping to drive innovation and growth at Rittal to support customer's business needs. Denis looks forward to seeing his team's success as Rittal continues to provide innovative solutions to overcome industrial automation challenges.
How long have you worked at Rittal?
I have been with Rittal for about six years, my career with Rittal began in July 2016.
Tell us about your career and education leading up to your current role? What did you study, and what other roles have you held?
I hold a degree in Economics from Iowa State University. Prior to my career with Rittal, I worked for one of Rittal's competitors. During my time with them, I held roles as an Account Manager and District Sales Office Manager with responsibility for regional sales leadership in the upper Midwest. My tenure with Rittal began as the Regional Channel Manager, Midwest before becoming the Regional Director of Sales for the Midwest Region in 2018. To support growing business needs, I took on the interim role of General Manager for the Midwest Region before moving to my current position with Global Key Accounts. Before joining the electrical industry, I had a successful career as a commercial security integrator.
What inspired you to pursue a career with Rittal?
When I joined in 2016, Rittal was redefining the role of the Channel program within our sales organization to better foster deep relationships with our channel partners. Joining Rittal at that time was transformational for the organization and my career in the electrical industry. The challenge of implementing changes to support developing close relationships with the channel partners and helping them succeed with Rittal was very rewarding and is what ultimately attracted me to become part of the Rittal team.
What's the coolest project you're currently working on?
We are currently working with a global drive manufacturer to help redesign their product from TS 8 to the VX-25 enclosure platform. Accomplishing this will open opportunities for the customer to sell the product outside the US market more effectively because of Rittal's global brand recognition. It will also strengthen Rittal's future relationship with this customer. The challenge for the project is aligning expectations, both internal and external, addressing priorities, and getting everyone working toward the common goal.
Who or what inspires you?
Being in sales for almost all my adult life, I am inspired to help others succeed because, their success equates to my success. Many times, I've said that people buy relationships; they need products and the product is a compliment to the relationship.
Do you have any advice for new hires at Rittal?
The constant at Rittal is change, so embrace it. The company continues to look for ways to better support their customers and strengthen relationships. I recognized this prior to becoming part of the Rittal team and throughout my 5+ years working at Rittal I have seen much change and continue to be excited for the future.
What does true leadership mean to you?
For me, a true leader recognizes that progress is a team activity. The ability to lead with humility, bring people together, accentuate their strengths, minimize weaknesses, remove noise, and keep working toward a common goal. Always seeking progress over perfection and assigning credit where due.
What's been the proudest moment of your professional career?
At our national sales conference in January 2018, I was recognized as Top Channel Manager in 2017 for my work as Regional Channel Manager with the North Region. This was not just the highlight of my time with Rittal, but my entire career. With the support of leadership and the sales team in the North Region we helped our Channel Partners grow their business with Rittal by capturing mindshare, creating value, and making it easier to do business with Rittal. Along the way I made lifelong friends and work colleagues.
What do you do for fun?
Because I live in Minnesota, fun is seasonally dependent. In the winter I love to snowboard (in the mountains) and cross-country ski here at home in Minneapolis. In the summer, I play golf and bike as much as possible. My wife and I garden in the summer and use the harvest to try to attract our adult children who live in Minnesota to visit for Sunday dinners.
Join our team and discover how rewarding a career with Rittal can be!