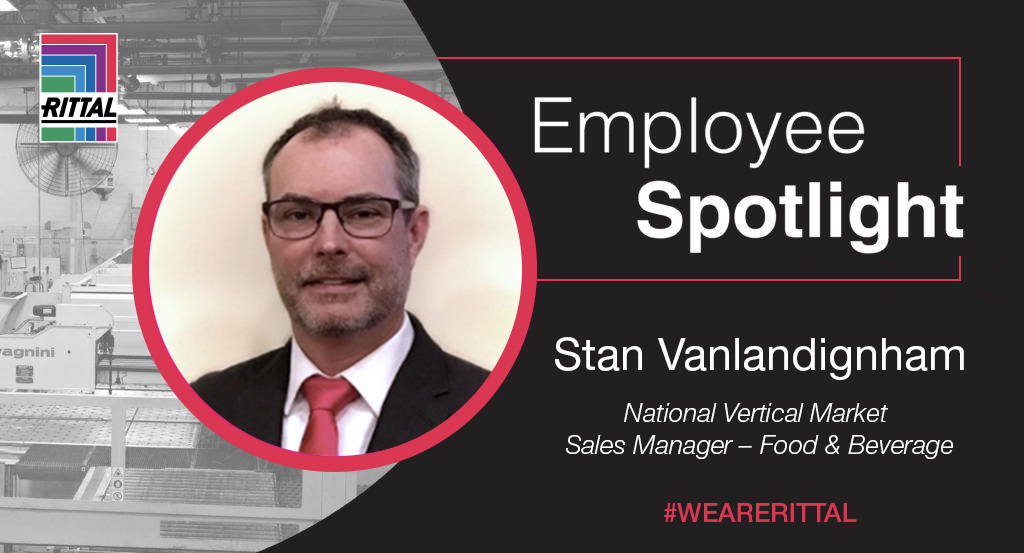 Stan has a strong foundation in the industrial space and really enjoys his current role focused on innovation within the food and beverage industry. He feels that Rittal does a great job giving employees the flexibility to take ownership of their roles which makes for a more enjoyable working environment. This has also allowed Stan to encourage others to take a leadership role and provide them the ability to grow. Stan values those around him — he enjoys mentoring people and watching them exceed expectations, provides encouragement at every step, and enjoys spending time with his family.
How long have you worked at Rittal?
10 years.
Tell us about your education and career leading up to your current role. What did you study, and what other roles have you held?
I attended Kent State University where I studied Industrial Design. Prior to coming to Rittal I was a Pneumatic and Automation Specialist for a distributor in the Southeast focusing on robotics and motion control. Throughout my time at Rittal I have been the Account Manager for Florida and Puerto Rico, a Global Key Account Manager, and in my current role as Vertical Market Sales Manager.
What inspired you to pursue a career at Rittal?
I had sold Rittal products in the past and had a good understanding of the company. Although Rittal is a very large global company, it still manages to have a small to medium company feel which I enjoy. This allows the sales teams the ability to have an entrepreneurial ownership of their regions and further inspires an enjoyable working environment. Also, my past roles at Rittal have exposed me to international business that I have found intriguing and fun.
What's the coolest project you're currently working on?
Over the years I have been in several industries and been involved with some amazing projects from huge refinery projects in the Middle East to well-known rides at large Theme Parks. Currently just seeing how the food processing industry is adapting to automation and the use of artificial intelligence in the past year or so has been "cool". I'm looking forward to seeing how the new technologies that are coming to market will transform the industry and wish I could go into more detail about all the exciting things happening.
Who or what inspires you?
Winning — Being the best at both my work life and home life. I have a lot that motivates me, books, quotes, and a drive to be better. What truly inspires me the most is when I see or hear of people doing things that others did not believe they could do. To me that is the ultimate win — proving to themselves and others they are capable of more than they realize.
Do you have any advice for new hires at Rittal?
My advice is to make connections across the organization including upper management. You were hired by Rittal because someone knew you were going to add great things to this company and help it grow. I always believe if you know the company's mission statement and present yourself as a leader, others will see you that way and in time you can become a leader.
What does true leadership mean to you?
I have been privileged to work for some great leaders, some "player coaches", and others who were very strategic. To me, providing my team with the support and tools they need to go after opportunities with confidence is key. If they land the opportunity it continues to build their confidence and if they lose, we treat it as a learning experience so they'll be more prepared for the next opportunity. I try to understand each team member's personality and what drives them so that I can help them become even more successful.
What has been the proudest moment of your professional career?
Being able to mentor people. I really enjoy sharing my thoughts or experiences with colleagues and watching them grow in their roles over time or transition to other opportunities.
What do you do for fun?
The list would probably be shorter of the hobbies I haven't had. Right now, spending time with my wife, boating, off-roading, farming, and traveling are among the top of my list. Our daughter and her husband had their first kid and we are excited about having our first grandson! He is so much fun to watch play and grow. Also, watching our son who has gotten into the industrial sales business experience the learning curve and seeing how he overcomes challenges is a joy.
Join our team and discover how rewarding a career with Rittal can be!