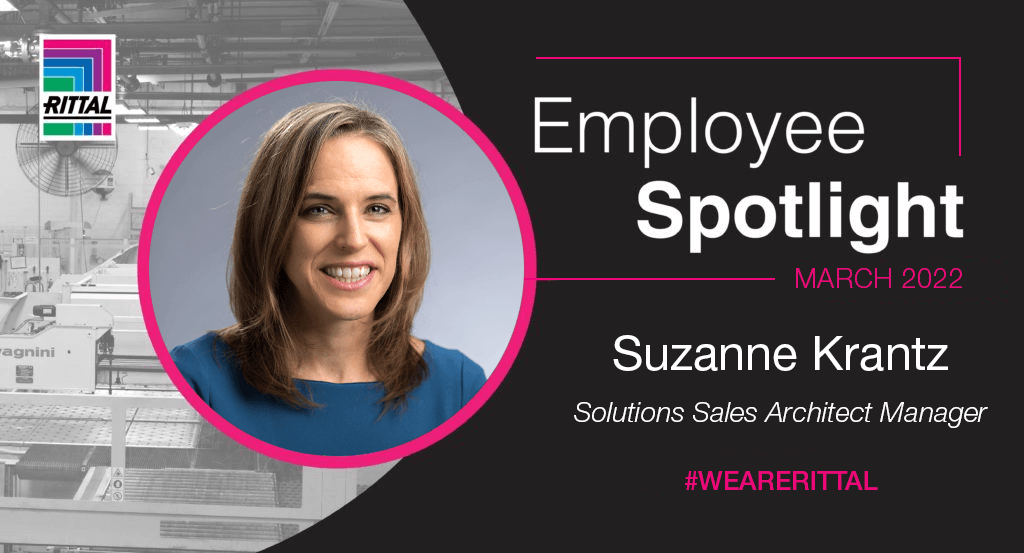 For Suzanne Krantz, being on the forefront of innovation is one of the most exciting parts about working at Rittal. Her engineering background allows Suzanne to understand customer needs and provide valuable insights in the design process. Her passion for driving results and identifying solutions for customers is evident through the work she does every day. Suzanne enjoys meeting challenges head on and empowers those around her to do the same.
How long have you worked at Rittal?
I have worked at Rittal for eight and half years.
Tell us about your education and career leading up to your current role. What did you study and what other roles have you held?
I have a Mechanical Engineering degree from Ohio State University. I have spent my career at different manufacturing companies, beginning in design engineering then progressing into various roles within product management and application engineering and now my current position as Solutions Sales Architect Manager.
What inspired you to pursue a career with Rittal?
I had been active in the data center market for many years and wanted to pursue this area further. The Rittal data center solution interested me because of the product quality, engineering focus, and breadth of products.
What's the coolest project you're currently working on?
Working with our newly formed team of Solution Sales Architects to support our expanding Channel Partner program. As a service to our partners, we are providing access to our team of experienced and qualified technical subject matter experts. Our team provides valuable application guidance and builds Rittal solutions that meet end user business requirements.
Who or what inspires you?
I am inspired by visionary people. The people who see potential in others and environments where growth opportunities are not apparent, but they pursue the opportunity despite the naysayers.
Do you have any advice for new hires at Rittal?
Don't be afraid to ask lots of questions. Share your unique experiences and perspectives and collaborate with your team to find solutions to problems together.
What does true leadership mean to you?
True leadership to me is enabling and empowering others to grow and succeed.
What's been the proudest moment of your professional career?
The Edge Standalone Platform designs. As part of the IT Solutions team, it has been exciting to have contributed to the development of the Edge designs from concept through comprehensive solutions to actual installation by the Rittal Service team. Then being able to duplicate the systems for a wider variety of customers and applications. Rittal has been able to solve customer problems with installing mission critical equipment in challenging uncontrolled environments at The Edge.
What do you do for fun?
I love spending time with my 7 year-old daughter and my husband. I also enjoy cycling outdoors or on my indoor trainer. When I have the chance, I love to travel and visit national parks to see the beauty of nature, as long as no bears or snakes cross my path!
Join our team and discover how rewarding a career with Rittal can be!