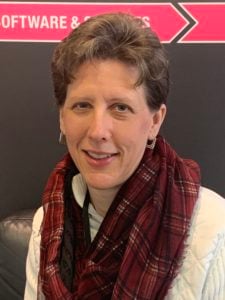 Diane Rudolph, Director of Material Services, Rittal North America, LLC
In recognition of Women's History Month, Rittal recognizes our women in manufacturing. The following is our first installment of our "We are Rittal!" mini-series, based off our We are #RittalStrong, #RittalResilient, #RittalWomen campaign.
Introduction
Diane Rudolph joined Rittal 22 years ago as a Safety & Environmental Engineer. In her time she has held various roles within the organization; her current role is Director of Material Services. She has her Bachelor's degree in Environmental & Hazardous Materials Management from the University of Findlay as well as an MBA in Project Management from Wright State University. Diane is a Certified Supply Chain Professional (CSCP) and has earned her Six Sigma Black Belt. In her spare time, Diane loves spending time with her 13-year old twin boys, traveling and being outdoors.
Question and Answers
Q: Do you think there is a stigma attached to the manufacturing industry that keeps women from entering it?
The stigma about women in manufacturing is only there if we focus on it. Pick a career that you love and do your best regardless of gender. Once others see your passion and drive, they will begin to emulate you or they will drift to the side and not be a factor.
Q: What unique qualities and perspectives do you think women bring to leadership? As it pertains to the manufacturing/industrial sector?
Speaking in general terms, women excel in time management and organizational skills because they often are juggling between family responsibilities and their career. Leading by example, they require the same of their direct reports, which in turn improves the company's speed of response and execution. In manufacturing or other industrial sectors, women can provide an alternative view point that will help solve problems. If they are brave enough to join manufacturing then they are usually not bashful about asking questions, which leads to more reflection and ultimately an improved resolution.
Q: What is happening now in the industry that is inspiring you?
The U.S. has a strong history of being a manufacturing powerhouse. In order to sustain this reputation, we are dependent on our future generations understanding that there are exciting careers in industry. Right now, there is a resurgence of education valuing trade/manufacturing skills. Empowering our children to see there are many avenues to success and fulfillment are critical for an effective economy and society. There is a sense of accomplishment in manufacturing because you are physically involved in the transformation of the product. Your efforts have direct tangible results.
Q: Who was your mentor when you began developing your path in the company?
Neven Rudman was the Operations Director that provided guidance early in my career. He was tough, but fair and drove for performance at all levels. He took individuals out of their comfort zones, placing them in different roles or requiring them to present their work in front of broader audiences. This not only improved the performance of individuals, but also improved the greater organization. When Rittal shifted from business units to functional roles, Neven put me in the role as Plant Manager, the first for the Rittal facility. He focused on performance, not gender and I continue to do the same.
Q: Can you provide some advice on what women should know about working in manufacturing?
My advice to other women would be to follow your passion and do what you love. Gender is not important unless you make it so. Focus on how you can improve workplace issues by seeking to understand first, then challenge the status quo and offer potential solutions. You will be considered a valued resource if you do.
Rittal would like to thank Diane for taking the time to sit with us to gain insight into women in manufacturing. Check in next week!