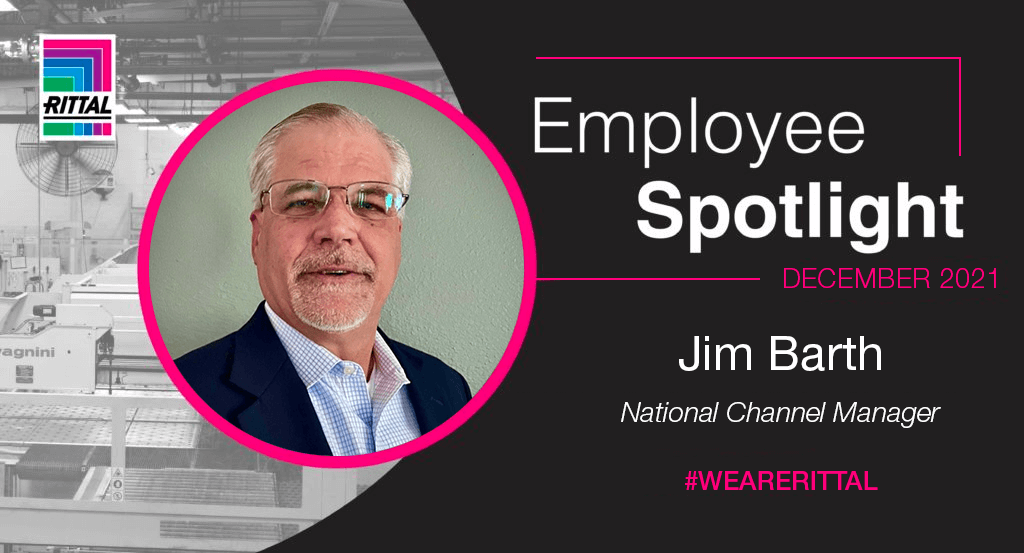 We build our corporate culture on team spirit and this would not be possible if we did not put importance on building long-term relationships with our team. It is because of our talented team that we have seen continuous growth and will continue with a bright future. Our team is #RittalResilient #RittalStrong and together, We are Rittal!
Introduction
Jim Barth has been with Rittal for three decades. During that time, he's held a variety of positions and roles with Rittal, experienced several shifts within the industrial automation space, and been an integral part of a team that introduced a new product to market that Rittal is still known for today. Ask Barth to what he attributes his longevity and success with Rittal, and he'll tell you it's a foritidious connection between his innate desire for continued learning coupled with Rittal's emphasis on providing employees with opportunities for growth. In fact, you could say Jim and Rittal were made for each other…
How long have you worked for Rittal?
This November marks 30 years with Rittal.
Tell us about your education and career leading up to your current role. What did you study, and what other roles have you held?
I have a Bachelor of Science in Industrial Technology from Ohio Northern University in Ada, Ohio.
Most of my career has been with Rittal. I've had the opportunity to be in many different positions throughout my career at Rittal. I started in 1991 with the Special Products Team. After that, I transferred to customer service and application engineering, and in the early 2000's I moved into the operations world in logistics and warehousing. Following those roles, I transitioned to key accounts for a short period of time and then relocated to Texas for a sales leadership role. Since April, I have been working with our channel partners nationally.
What inspired you to pursue a career with Rittal?
I was employed at a different company in Springfield, Ohio when a friend told me how exciting the work was and how the people at Rittal were just great. I remember him saying the opportunities to grow here were endless.
What's the coolest project you're currently working on?
The digital sales/e-commerce channel is very interesting because it will be a key aspect of buying and selling in the future for most industries. I think we all saw this with COVID and how stores and restaurants reacted so quickly to the digital world. Learning about the different ways companies are handling the growth of digital sales and e-commerce is very interesting.
Who or what inspires you?
My father inspired me most. He worked two jobs most of his life. His hard work and loyalty to his family inspires me every day as I believe these aspects are key to being successful.
Do you have any advice for new hires at Rittal?
Never stop learning and always be willing to take on new challenges. Change is inevitable, so accept it and use it to grow your knowledge and expertise.
What does true leadership mean to you?
Listening, supporting, and coaching to help a person grow. It does not matter how old you are — there is always room to learn, to be coached, and to improve what you do.
What has been the proudest moment in your professional career?
I would have to say being part of the team that developed and worked with a large company in Texas on the 19" rack design in the early 1990's. This was a huge change in the industry — the transition from mainframe computers to 19" racks — so it was really cool to be part of such a big shift. Plus, Rittal is still the leader today in this kind of product for many large IT companies.
What do you do for fun?
My wife and I have three sons and five grandsons, so our favorite thing to do is go on ATV trail rides and camping together. We also enjoy motorcycle rides with our club.
Join our team and discover how rewarding a career with Rittal can be!