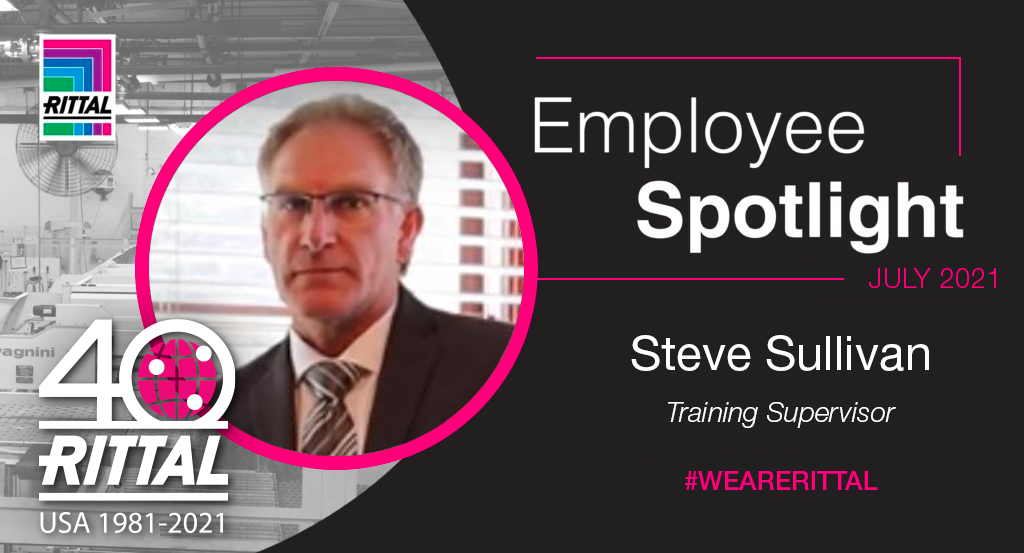 We build our corporate culture on team spirit and this would not be possible if we did not put importance on building long-term relationships with our team. It is because of our talented team that we have seen continuous growth and will continue with a bright future. Our team is #RittalResilient #RittalStrong and together, We are Rittal!
Introduction
Steve Sullivan joined the Rittal team in a production control capacity after serving as a Commissioned Officer in the Ohio Army National Guard. While at Rittal, Steve earned his MBA, and has applied that education along with the skills learned from military service to lead training and development for the last 23 years
How long have you worked at Rittal?
I've worked with Rittal for 26 years as of this fall.
Tell us about your education and career leading up to your current role. What did you study, and what other roles have you held?
I have a BS in Psychology from Wright State University, and an MBA from the University of Phoenix. Before Rittal I was an Operations Manager for an environmental laboratory and was a Commissioned Officer in the Ohio Army National Guard. My role in the Army was to manage the fuel supply and refueling operations for all ground vehicles and our helicopters. One perk of that job was to be able to go on cool chopper rides. I had some additional titles as well, like Range Officer and Safety Officer.
Initially I started my career at Rittal in production control, then after three years, made my move to training. Between 2006-2008 while still doing training, I also managed our tradeshows and exhibits.
What inspired you to pursue a career with Rittal?
I saw an ad in the paper that Rittal needed workers and decided to apply. When I applied, I referenced my military education in materiel control and accounting and got the job.
What's the coolest project you're currently working on?
Currently, I'm working on a new learning management system that will be rolled out to the company soon. I was responsible for our initial LMS back in 2006, so I'm excited about being involved in the implementation of the new one.
I also enjoy doing our "how-to videos" to help anyone who uses our products. Instead of reading instructions, people jump online to watch a video because it's convenient, saves time, and is on-demand.
Who or what inspires you?
I read a lot and I try to find inspiration from what I read. I also set high standards and expectations for myself — it drives me.
Do you have any advice for new hires at Rittal?
Be in a state of constant learning and self-improvement. Always have that next goal, and when you achieve it, set another.
What does true leadership mean to you?
Lead by example and take accountability for your actions. Be accountable for the welfare and development of those on your team. Make sound and timely decisions and take responsibility for those decisions — right or wrong, success or failure.
What has been the proudest moment in your professional career?
My proudest moment isn't even an award or a particular accomplishment, it was who I worked with. When I worked at the environmental laboratory, I worked with my Dad every day; I wouldn't trade that time for all the money in the world.
What do you do for fun?
I like to golf, play piano, camping, shooting (target, not hunting), working on cars, and I'm a fan of NASCAR. It's an interesting mix, right?
Join our team and discover how rewarding a Rittal career can be!