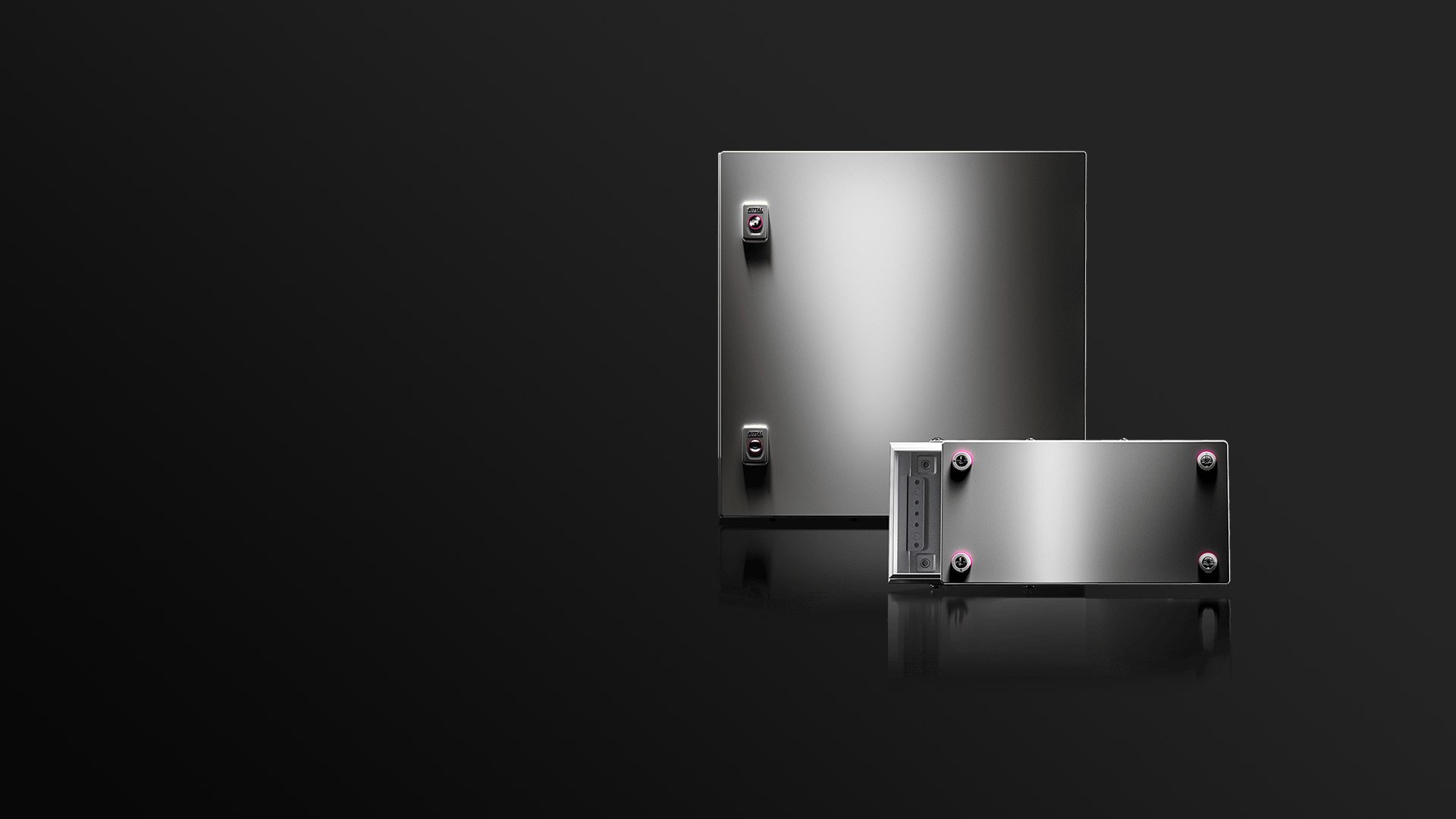 When it comes to the design and engineering of the ideal industrial enclosure in today's manufacturing landscape control engineers and panel builders have a shortlist of attributes that help certain enclosures rise through the ranks of preference.
The common denominators on most lists include:
Streamlined, error-free design and configuration
Ease and versatility of integration into existing automation systems
Space-saving capabilities to reduce automation footprints
High degrees of protection and durability based on industry application
Identifying the right industrial enclosure that can meet these requirements is a real challenge for engineers and panel builders. Today's industrial space has the added concern of supply chain instability and material shortages that further complicate the ability to source the right enclosure quickly to reduce production downtime or disruption.
Rittal's AX compact enclosure goes beyond addressing each of these mission-critical components. The AX is emblematic of Rittal's dedication to helping automation architects create an automation infrastructure based on efficiency, productivity, and sustainable growth. Here, we'll outline a few reasons why control engineers and panel builders love the AX compact enclosure.
Designed with Industry 4.0 and IIoT in mind
The emergence and continued evolution of Industry 4.0 and IIoT have accelerated industrial automation. Prior to this evolution, the design and engineering process was laborious and manual with a variety of roadblocks in terms of collaboration, communication, and visibility. The end-to-end digitalization of the design and build process now provides engineers with real-time visualizations and insight into everything from material sourcing to the creation and alteration of panel and enclosure schematics.
Combined with the AX's innovative design features — more on those in a moment — Rittal's sister company EPLAN creates a fast, simplified, and error-free CAE design process. Cloud-based apps, digital twins, and 3D control panel provide engineers and panel builders with streamlined workflows for installing electrical controls, wiring, and panel assembly to reduce downtime and leverage greater degrees of customization.
Rittal and EPLAN also offer a suite of programs to configure and build the AX in such a way to address their specific application changes:
EPLAN Data Portal for the most efficient and consistent sourcing of component materials to reduce special orders, part shortages, or on-the-spot part modifications.

Seamless integration with Rittal enclosures and

RiPanel

– the online enclosure configurator.
EPLAN Pro Panel with dynamic 3D engineering and verification capabilities for control cabinets and switchgear including access to device data.
EPLAN Smart Wiring for increased efficiency and accuracy in every step of the wiring process by providing digital engineering data and project management comparisons.
EPLAN Engineering Configuration to help panel builders avoid the manual creation of the control cabinet layout and instead opt for its digital twin to increase efficiency and reduce downtime.
With Rittal and EPLAN, engineers and panel builders are no longer working reactively in variant-rich environments — instead, they're able to work proactively to be more agile and nimble in global, competitive marketplaces.
Ultimate configuration versatility
Because it's designed and engineered using Industry 4.0 and IIoT as a guide, the AX allows for configuration and deployment versatility and flexibility to help manufacturers seamlessly integrate the cabinet into existing automation systems.
Particularly in the material handling industry — though certainly across all sectors of modern manufacturing — the need for speed is paramount in optimizing production programs and helping to fuel growth and profitability. The AX excels in helping control engineers and panel builders spec a wallmounted enclosure that can be easily customized to suit the needs of specific industrial applications without sacrificing the protection and security of mission-critical electronic components.
Thanks to the packaging concept developed specially for the AX, panels can simply be taken out without having to be dismantled and then fed directly into our customers' production process.
The AX's high-level of configuration and versatility is also achieved through:
A variety of mounting capabilities without the need for tooling or machining
33% larger gland plates for more flexible cable entry and wiring
Easy door and hinge assembly reversal, even with double-door enclosures
Tool-free enclosure door and cam lock installation
Flexibility with a variety of industry applications
Today's control engineers and panel builders know manufacturers are constantly being asked to achieve more with less. identifying industrial automation solutions that can easily adapt to a variety of deployments or industrial environments helps to achieve this goal. This is especially true for the material handling and automotive industries where new production lines or even entire facilities are required to meet heightened demand or shifts in consumer preference.
Though certainly not a one-size-fits-all, the design and construction features of the AX make it the ideal small enclosure to help manufacturers address these growth and expansion challenges. Available in both carbon steel and fiberglass reinforced polyester, the AX can be deployed in both indoor and outdoor environments with IP 66 and NEMA Type 1, 3R, 4, and 12 protection for superior durability and reliability.
In addition, dipcoat primed exterior panels and zinc-plated mounting panels provide enhanced protection in the face of a variety of environmental elements that can damage surfaces.
The AX provides control engineers and panel builders with more flexibility for cable entry, greater capacity for electronics compared with other small enclosures, and increased overall customization to align with the challenges of specific sectors of modern manufacturing — be it automotive, material handling, or more.
Learn more about how you too can fall in love with the AX enclosure.