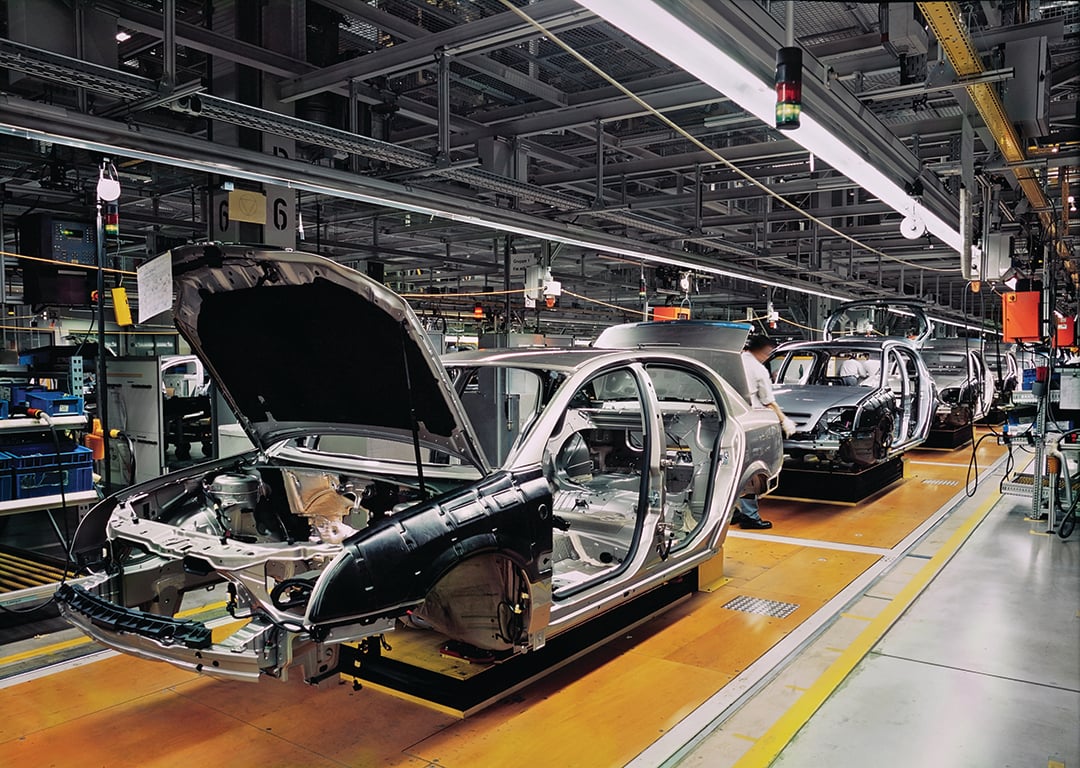 Energy efficiency. Cost effectiveness. Streamlined operations. Climate control. It is all needed in today's Industrial Internet of Things (IIoT) world. And Edge computing is delivering.
Most manufacturing facilities have been "smart" for a while now. Programmable logic controllers (PLCs), local micro servers, and computers are connected to process equipment, testing and QC systems, even individual workbenches. So, Edge computing is a familiar and necessary element to modern manufacturing.
What is changing? Increased integration of OT (operational technology) with IT (information technology), use of Industry 4.0 and AI, data capture and analysis, as well as new technologies, applications, and software platforms.
A new era has begun with future decisions being based on learned insights. In fact, according to IDC's "FutureScape: Worldwide Manufacturing 2021 Predictions," by 2026, 70% of Forbes' Global 2000 companies will use AI to develop guidance and insights for risk-based operational decision-making, up from less than 5% today. That is a giant leap.
In a previous blog on the importance of Edge computing for manufacturing automation, we explained the growing need for manufacturing automation and how Edge is fulfilling that need. That article is a great complement to today's topic, which explores exactly how industrial automation is being driven by the benefits of Edge computing.
Both Sides of OT and IT Convergence
Successful industrial automation requires solutions — IIoT applications, for instance — that combine operational technology (OT) systems, which monitor/control the physical world, with data processing information technology (IT) systems.
A solution must be able to process and filter huge amounts of raw data, sending what is necessary to the cloud. Once data is available, cognitive algorithms can locally analyze and translate it into actionable communication protocols in real time.
When decisions are processed at the Edge, manufacturing is more resilient and empowered, and unnecessary network traffic (and costs) minimized. Plus, Edge computing enables scalable architecture that addresses both IT and OT needs moving forward.
Of course, any solution must withstand challenging industrial environments (dust/dirt, moisture, vibration, temperature changes, etc.) where they will inevitably be installed. In addition, removing generated heat using conventional means cannot keep up with today's increased installed component densities. The many factors of ensuring optimum performance for Edge computing deployments are being met by technological advancements.
How Edge Computing Benefits Automation
Industry-Focused Edge
Edge computing solutions are now being designed specifically for industrial environments that have unique environmental, regulatory, and/or safety requirements. For instance, when industry-focused Edge compute devices address regulations or standards, it may reduce the facility's risk of explosions, fires, harsh chemicals, or other issues resulting from the manufacturing process.
Industrial Shared Devices
Not all industrial workers use dedicated devices; many share devices such as kiosks, terminals, interactive touch screens, and digital signage. Many of these solutions are integrated with Edge automation computing, providing an intuitive experience and simplifying manufacturing.
Edge Deployments
Every industrial environment is different, each requiring its own complexity, scalability, and resilience. A stand-alone Edge deployment can be built for individual industrial spaces that contain basic servers up to high-end computing solutions, yet all must be designed to withstand harsh environments.
Components Beyond Edge Deployment
Industry 4.0, AI, and robust data capture is also happening beyond the factory setting, requiring compute solutions outside the four walls. Many OEMs build embedded technologies — touchscreens, chips, sensors, and other components — into the design of their intelligent products, boosting data-capturing and automation possibilities.
Edge In Action: A Case Study
An automobile manufacturer was looking to bring IT processing closer to the factory floor as it implemented advanced automation, yet the environment punished IT equipment, especially if not properly protected and cooled.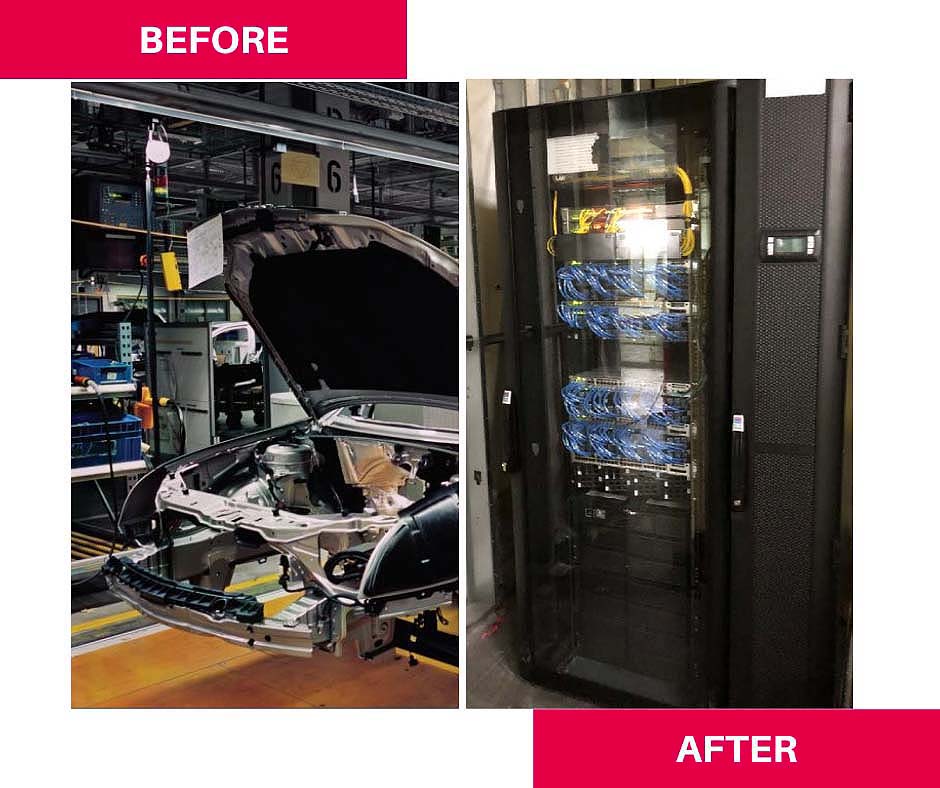 Opportunity
The manufacturer's automation and robotics required sensors and networking equipment to ensure uptime, efficiency, and centralization of control. The current data center's AC unit drew air from the surrounding environment, allowing warm air and debris to come in, causing high rates of data center failure.
Solution
To keep contaminants out and regulate temperature, Rittal used the LCP Rack DX, with minimal power consumption and a cooling output of 12 kW. Inverter-controlled, allowing IT-compatible cooling, the LCP Rack DX directs all cold air to IT equipment inlets, supplying evenly cooled air to the complete height of the enclosure. This is ideal for handling large thermal loads and power density challenges in uncontrolled environments.
To take advantage of one of the manufacturer's only two scheduled production shutdowns per year, Rittal spec'd the LCP Rack DX, had it ready to go, and installed it in only three days.
Conclusion
The implementation of the LCP Rack DX has resulted in energy and space efficiency, greater reliability, design flexibility and is now future-proofed. Due to its flexibility and expandability, the LCP Rack DX allows for the expansion of the manufacturer's system, so they immediately began planning future installations.
Want to see more real-world Edge installations? Read this article about Rittal success stories.
As we have explored, Edge computing takes full advantage of IIoT and Industry 4.0, bringing industrial automation capabilities close to devices on the manufacturing floor, opening remote connectivity possibilities, and supporting resilient decision-making.
Moving to the Edge this year? Start by reading The Future of Edge Computing — Benefits for 2022 and Beyond.