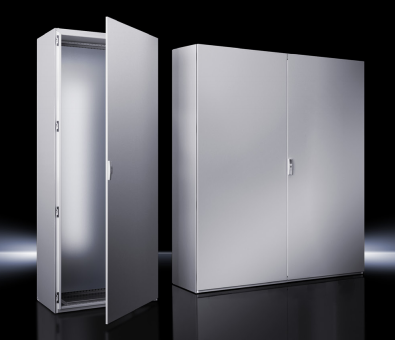 Industrial enclosures face harsh conditions, especially in today's global marketplace where volatile weather patterns and hazardous natural conditions are becoming more and more prevalent due to climate change. From extreme variances in temperature and atmospheric conditions to airborne corrosives and liquids and other foreign contaminants, industrial engineers know that the manufacturing environment poses a multitude of challenges to the integrity of the control panel infrastructure.
Protection of the control panel infrastructure is never simple, especially in 2021 as more of this infrastructure is inextricably linked via Industry 4.0 and IoT. This is where selecting the right industrial enclosure is key, but such a decision-making process is easier said than done when you account for the variables at play, both externally (environmental) and internally (operational within a given facility).
This begs the question: What should be considered in protecting industrial enclosures from the elements? The key to understanding and selecting the most effective, efficient, and value-driving enclosure is to identify and evaluate the variables in your environment, understand the connectedness of these panels to other components of your infrastructure, and select an enclosure that can withstand swings in climate or environmental conditions and leave you the least susceptible to breakdowns or work stoppages.
Foreign substances
There are any number of environmental elements and contaminants that can affect the performance and durability of an industrial control panel. Some of these foreign substances include water, dust, dirt, oil, and other airborne particles. Each of these can significantly damage the panel and associated electronic equipment housed within the enclosure and thus open an entire industrial infrastructure to the increased risk of breakdown or failure.
To combat the penetration of these foreign substances, the Rittal TS 8 deploys a four-point latching system and a foamed-in-place gasket system to ensure a seamless and complete seal of the enclosure regardless of environmental or climate factors. This forms a continuous barrier and gap-free seal, which creates both superior containment and memory retention to safeguard against the challenges of any industrial environment as well as prevent the ingress of potentially hazardous or damaging substances.
Additionally, the stainless and carbon steel construction options offer NEMA (National Electronic Manufacturers Association)-rated protection with the practical flexibility to adapt to the fluctuating demands of today's variable-rich industrial landscape.
Temperature
Control panel infrastructure faces temperature challenges on two fronts: first, internal temperature is affected by the heat generated from the operation of control panel devices, and second, the external or ambient temperature also impacts the enclosure and operating control panels.
For example, a mere 10-degree increase in operating temperature can result in operational inefficiencies or even breakdowns, but a sustained increase on this order can also impact the overall lifespan of the panel. Temperature control and the capacity to monitor and adjust based on external or internal factors is also a matter of energy consumption and by direct extension the cost associated with overall operation, two factors industrial manufacturers must be mindful of in a competitive marketplace
Fully compatible with the TS 8 is Rittal's line of cooling solutions for both enclosure based and room based thermal management through such solutions and products as filter/fan systems, communication and control integrations, air routing, water cooling, and climate mounting. With 30 to 50 percent of energy costs attributed to cooling systems, Rittal designs maximum cooling efficiency into each solution: CRAC, in line/in row, chillers, pipe installations, water distribution cabinets, or water heat exchangers to ensure delicate dew point balance between the load temperature and the ambient temperature is maintained, preventing damaging condensation of the control panels.
Washdown
When washdown of industrial enclosures is required, the control panels must be protected. Harsh chemical cleaners, high pressure and/or heated water, and frequent cleaning processes can subject industrial closures to potentially damaging wear and tear. However, Rittal's impervious sealing capabilities safeguard vital control panel components against undue damage from the most stringent cleaning procedures.
Such sealing capabilities and the capacity to withstand intensive cleaning procedures uniquely positions Rittal in the food and beverage sector where enclosures must adhere to food-grade compliance and regulations and where strenuous sanitation practices are part and parcel of the industry.
Corrosive Elements
Whether an industrial enclosure resides in an indoor or outdoor context, corrosion can factor heavily in the breakdown of the enclosure's durability. Outdoor factors such as sun, snow, salt, or chemicals can damage the exterior of some enclosures, and acids, solvents, alkalis, oils, and industrial chemicals can threaten an enclosure housed on the factory floor.
Rittal engineers have designed and deployed a 3-step painting process to combat any instance of environmental abuse. Similar to processes used in the automotive industry, first an electrophoretic dip-coat primer is applied, followed then by a two-part primer nano-coat and lastly a final powder coat. This practice provides a finished external barrier on the TS 8 for any climate or interior/exterior environment.
Enclosure Material Construction
In today's industrial landscape, there is a wide array of materials companies use for the construction of their enclosures, and each material provides its own set of value propositions based on the environment and/or context in which the enclosure will be deployed. As we briefly touched on above, the Rittal TS 8 leverages two distinct construction materials — stainless and carbon steel — to offer the highest level of end-to-end flexibility and maneuverability for the user.
The stainless steel 316 construction of the Rittal TS 8 has been proven to be impervious to the most corrosive environments and superior to lesser steel or powder-coated materials. In addition, the stainless steel 316, combined with the three-step finish, has proven durability in the most extreme conditions, and its unibody design provides 3,000 pounds of weight capacity while at the same time providing the ultimate in flexibility and adaptability.
In addition, the environmental protection offered by the Rittal TS 8 has been field-tested in more than 10 million installations in such industries as food and beverage, automotive, transportation and manufacturing, and other verticals wherein environmental protection for industrial enclosures is critical to operational stability. To put it mildly, Rittal's industrial enclosures check all the boxes for today's industrial engineer seeking the stability, durability, functionality, and cost-effectiveness necessary to compete on a global stage.
See How Rittal is Engineered Better
Visit our Modular Enclosure page to see how Rittal enclosures best help you weather the elements and outlast the competition.