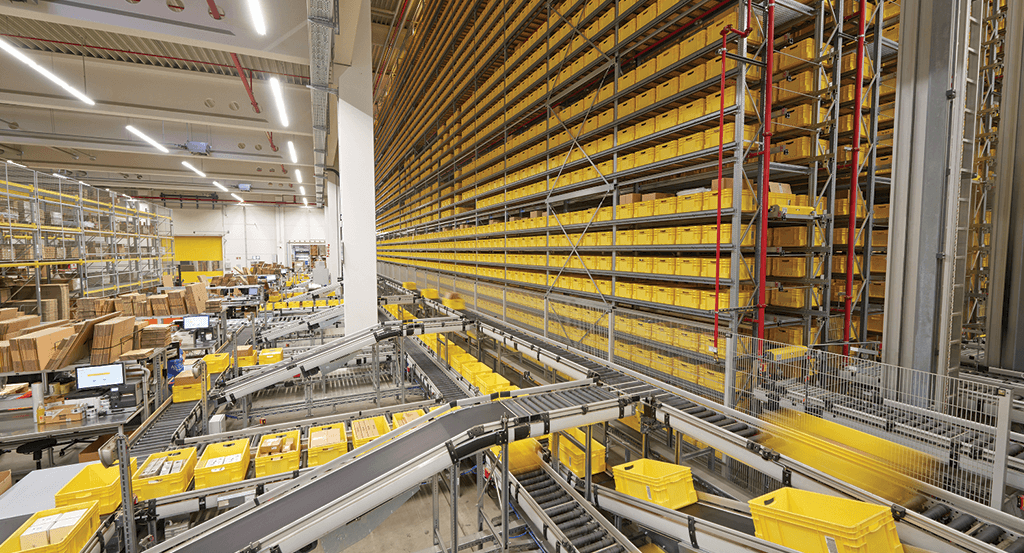 The material handling industry is projected to eclipse $300 billion in market size by 2029. Couple this with a recent report that found up to 25% of material handlers are currently experiencing labor shortages and you have a pathway for evolving warehouse automation to help material handlers process increased parcel quantities while also overcoming their staffing challenges.
But there's more to this story than a fast-growing market and labor shortages. Here, we'll look at a couple of other reasons why material handlers are retrofitting distribution centers for warehouse automation, and what automation designers and engineers should consider when retrofitting existing facilities for an industrial automation framework.
The growth of e-commerce is driving the need for accelerated throughput times
The growth of the global e-commerce market is estimated to reach more than $6.1 billion in 2023 alone. This meteoric rise of e-commerce not only means greater quantities of parcels for material handlers to process and distribute, but it has also shifted customer expectations in terms of how long it should take the products to go from warehouse floor to their front door.
What's more, the diversification of the e-commerce market has resulted in more variability in terms of the size, shape, and weight of parcels in today's distribution centers — when consumers are flocking to online retailers for everything from desk lamps to outdoor patio furniture, it changes the game for how material handlers can maintain or accelerate their throughput times with such a variance in the dimensions of packages.
Plus, the need for more distribution hubs in new geographic markets to meet consumer demand means material handlers are facing a difficult question: build new, modern facilities, or retrofit existing buildings for the automation architecture necessary for their application? Retrofitting existing warehouses can help material handlers reduce the time it takes to bring the distribution center on-line because you don't have to build the facility from the ground up.
But it's not just the popularity of e-commerce or the size and shape of parcels that is pushing the material handling industry to retrofit facilities for automation to process packages faster and more efficiently.
While the e-grocery and material handling space don't necessarily swim in the same pool, the rise of the online grocery industry has impacted the material handling space in terms of the speed and visibility consumers expect from distribution centers and warehouses. As a result, material handlers are now faced with the challenge of expediting the distribution processes with greater transparency each step of the way.
While retrofitting can accelerate throughput times, the challenge in successfully retrofitting is choosing industrial enclosures that can be quickly and easily customized to suit the space constraints of the retrofitted space. This is where specifying standard industrial enclosures that are designed with flexibility in mind becomes key to increasing your speed-to-market.
Modular enclosures like Rittal's TS 8 helps designers and engineers easily adapt to space constraints in existing facilities with features like removable panels, interchangeable doors and handles, and a wealth of configuration options that can be completed without the need for specialized tooling.
Reshoring is shifting the U.S. supply chain
The reshoring of manufacturing in the U.S. was recently identified as one of the top reasons why material handlers are retrofitting distribution centers for warehouse automation. During the last decade, North American manufacturing companies have realized that reshoring manufacturing programs helps to reduce lead times, increase quality control processes, and create a more skilled workforce. Plus, reshoring production also helps manufacturers reduce shipping costs and increase their productivity and efficiency.
How does this shift to reshoring affect material handlers?
For starters, reshoring creates a more robust U.S. supply chain that needs to utilize a larger number of domestic warehouses and distribution centers to move parcels from Point A to Point B — and this means relying more heavily on industrial automation equipment to quickly and accurately process and route parcels to their destination.
In addition, reshoring helps manufacturers increase the flexibility of their production programs based on elements like consumer demand or the availability of raw materials and resources. This means material handlers must be equipped to handle fluctuations in the quantity or kinds of parcels they process with just as much flexibility and versatility.
Lastly, reshoring makes for more transparent communication in real time between material handlers and their manufacturing partners. For example, if a manufacturer needs to package and ship a product with expedited delivery, reshoring can streamline the process of the manufacturer collaborating with their material handler on inventory levels in the warehouse, and how quickly the product can be processed and shipped directly to the customer.
These downstream impacts of reshoring are prompting material handlers to retrofit distribution centers for warehouse automation in order to adequately process the increased volume of parcels. Additionally, retrofitting for warehouse automation helps material handlers gain greater insight and visibility into the efficiency of their processing sequences in order to better communicate and collaborate with manufacturing partners.
For example, overhead conveyor systems can help material handlers maximize warehouse space and reduce their automation footprint in order to accommodate increased parcel quantities or processing speeds. Rittal's AX compact enclosure is a wall mounted enclosure that can be easily customized to suit the needs of specific industrial applications without sacrificing the protection and security of mission-critical electronic components.
To help material handlers scale based on demand, Rittal's VX SE offers a wide range of dimensions with widths up to 1800 mm to replace up to three baying enclosures and depths starting at 300 mm for confined production applications. In addition, IP 66 and NEMA 4/4X ratings provide superior protection against harsh environmental conditions.
Partnering with Rittal can help material handlers retrofit distribution centers for warehouse automation in a way that future-proofs processes and increases productivity. Learn more about the challenges facing material handlers, and how Rittal can help you overcome these obstacles.