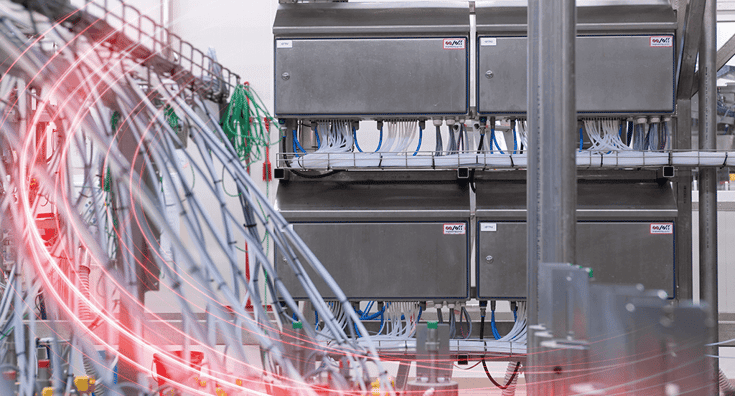 The food and beverage production industry is demonstrating tremendous growth. A recent report found that the food and beverage market is expected to reach $8.9 trillion by 2026 with an annual growth rate of almost 9%. What makes this surge in growth even more interesting is the growing popularity in the plant-based food and dairy alternatives segment, which itself is projected to generate more than $35 billion in sales by 2033.
What does this mean for food and beverage producers?
It means something of a land rush in terms of ramping up current production programs or bringing new ones online in order to meet consumer demand. But in order to increase their output, producers must either expand a current facility, build a new one, or retrofit an existing space, each of which means incorporating new industrial enclosures into their overall automation infrastructure.
The continued trend of reducing a facility's automation footprint means producers are more often specifying small enclosures, but the challenge is not all small enclosures are made equal. Let's look at a couple of considerations to keep in mind when determining whether your small industrial enclosure is right for food production, and how to avoid buyer's remorse by specifying the ideal solution for your needs.
What makes a small enclosure ideal to enhance sanitation and cleanliness?
The design features required of a small enclosure for deployment in a food production facility can vary by hygienic zone, and so can the NEMA and IP ratings as well as UL Certifications necessary to help ensure high levels of sanitation. For example, small enclosures used in the high hygienic zone must be IP 69 and include gaskets made with FDA-approved construction materials. Additionally, small enclosures deployed in the basic hygienic zone are typically NEMA 12 due to the lack of open containers or vessels during production.
When evaluating whether a small industrial enclosure is ideal for enhancing your sanitation and cleaning processes, some of the mission-critical components to consider include:
A 30° sloped, overhanging roof allow for easier inspection after installation, and to also help to prevent water and cleaning agents from pooling on top of the enclosure or seeping inside, both of which can cause harmful contamination or malfunction
Single-seal gasket door channel with a flange on the enclosure body to offer increased levels of protection during high pressure, intense cleaning
FDA approved, replaceable gaskets with two water-stopping ribs that extend around the perimeter of the door to better channel liquids toward the bottom of the enclosure
125° reversible door opening with 10° sloped door edges to help prevent the accumulation of liquid and promote more effective runoff
Chamfered enclosure body to eliminate pressure and pinching of the gasket
Single-gasket cover seal for additional seal protection during intense, high pressure washdowns
What design and engineering features make a small enclosure right for food and beverage production?
The engineering and construction of small enclosures for food and beverage manufacturing centers on flexible configurations that optimize space and help reduce the likelihood of unauthorized entry. In addition, food and beverage processors also need small enclosures designed to help ensure the safety of production floor personnel and other components of their automation infrastructure.
The engineering features that make a small enclosure the right choice for food production facilities include:
An internal hinge that allows for easy door removal, and hinge pins that can withstand high levels of operational vibration without detaching
3° sloped body on all sides that allows for installation in any orientation
Fully hygienic, FDA approved lock and seals that utilize two quarter turns for a secure, seamless closure
304SS stainless steel construction with smooth corners and seams
Ground studs on the body of the enclosure and the door for enhanced safety
2" wall spacers UL Type 4X rated and designed for heavy duty use
Rittal's line of Hygienic Design (HD) small and compact industrial enclosures is designed and engineered to meet 3-A sanitary standards, NEMA 4X, as well as is UL and cUL Listed to ensure the highest level of sanitary manufacturing. The body design of our HD small enclosures includes single and double door configurations with a variety of dimensions to fit any food and beverage facility.
In addition, our HD line also includes push button boxes, terminal boxes, and accessories to help food and beverage producers create a more efficient, flexible automation system that optimizes safe and sanitary production processes. HD accessories like our wall spacer brackets, cam locks, hinges, and enclosure handles are compatible with our HD enclosures for rapid integration and supreme cleanability.
Designed for seamless compatibility with smart systems that leverage IIoT and Industry 4.0 principles, Rittal's small enclosures align with a more data-driven approach to food and beverage production. What's more, Rittal's line of HD enclosures can easily be integrated with smart climate control units to help increase productivity and efficiency, and to also maximize uptime by reducing the likelihood of electronic failure inside the enclosure.
Explore how Rittal's Hygienic Design line of industrial enclosures can help you design a food processing facility that demonstrates superior cleanliness and sanitation.