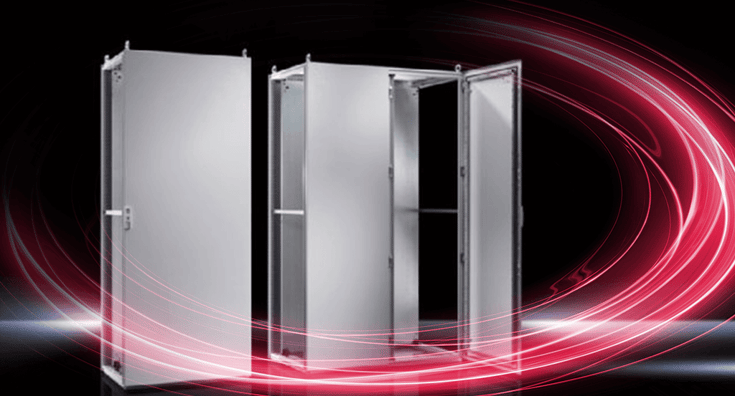 The National Association of Manufacturers (NAM) identified the need to create growth and expand facilities as one of the top trends for manufacturers in 2023. However, the ability to create long-term, sustainable growth hinges on the efficiency and adaptability of your automation infrastructure.

When it comes to large enclosures, the choice usually comes down to unibody construction versus a more modular approach. Designing around standard modular enclosures has a much higher ceiling in terms of unlocking new growth opportunities, in part because a more modular approach to enclosure design can help manufacturers maximize production floor space while still maintaining high levels of strength and security — particularly in the automotive or material handling space.
The challenge with spec'ing modular enclosures? Understanding which design and engineering components can help manufacturers build an automation system that is more versatile and agile. Here, let's examine which design features to look for in choosing standard modular enclosures for your manufacturing facility.
Flexible — and simple — enclosure configurations
One of the hallmark design features of standard modular enclosures is configuration flexibility to help manufacturers reduce their automation footprint or adapt to space constraints on the factory floor. Design elements such as interchangeable panels, removable and reversible doors, variable mounting plate positions, and compatibility with wall partitions inside the enclosure make it easy to customize or tailor individual enclosures based on any number of application needs.
What's more, innovative modular frame structures create both inner and outer mounting levels inside the cabinet, which allows for more electronics within the enclosure. Plus, modular enclosures also create increased opportunities for baying on all sides in just minutes using a simple parts list of brackets, clamps, and other standardized tools. This allows for integration into spaces with size limitations, and it also provides a variety of connection configurations that make for easy cabinet wiring regardless of the application.
Faster, more efficient configurations and simplified installations also help optimize efficiency by streamlining tedious, time-wasting manual processes that once required high degrees of human intervention. Standard modular enclosures like Rittal's TS 8 can also be configured without the need for specialized tooling, which helps reduce operational costs and maximizes production uptime.
Strength and protection in uncontrolled manufacturing environments
One of the more pervasive myths about standard modular enclosures is that they lack the strength and security of more traditional unibody enclosures. The truth, however, is that modular enclosures are just as strong and durable even in the harshest manufacturing environments, and the modular design principle actually enhances the capacity to protect interior components.
For example, the ease of plinth assembly and installation and simplified floor mounting process makes standard modular enclosures ideal for harsh, uncontrolled manufacturing environments. Additionally, a carbon steel base and enclosure frame and zinc-plated carbon steel mounting panels allow for superior rigidity and support. This frame-based design also provides 30% more stability with 15% less frame weight without sacrificing protection or reliability.
In terms of increased strength and security, Rittal's line of standard modular enclosures are NEMA 4 and IP 66 rated to provide superior protection against the intrusion of potentially damaging particles, and four-point latches and seals prevent the entry of corrosive materials that could increase maintenance intervals and reduce the service life of the enclosure.
Our modular approach to enclosure design can also help protect your automation infrastructure by reducing the likelihood of electrical fault or arc flash. Rittal's TS 8 flange mount disconnect enclosure utilizes mechanical interlocking doors to prevent entry while the enclosure is energized. In addition, the TS 8 flange mount disconnect modular enclosure can house adapter plates for high or low amperage disconnect handles to help reduce the risk of arc flash events.
Compatibility with the digital transformation in modern manufacturing
The variety of design configurations with standard modular enclosures means automation designers and engineers need the utmost visibility into each step of the engineering process. Such high levels of transparency are only achievable via a complete digital transformation of this process, and this is where combining modular enclosure systems with digital CAE platforms can help automation architects design smarter and better.
For example, Rittal's TS 8 standard modular enclosure is compatible with Eplan's suite of design solutions to help engineers streamline workflows for installing electrical controls and panel assembly and wiring.
In addition, pairing Rittal's standard modular enclosures with Eplan's powerful design platforms can help manufacturers overcome a variety of challenges in modern manufacturing, including:
Increasing pricing pressures to be able to provide the right product at the right time within the right budget, especially as competition breeds a race to the bottom line
Skilled labor shortages that can result in increases in scrapped materials and revisions/alterations
Delivery pressures due to the rapidly changing and real-time demands to which manufacturers must respond
Inefficient workflows via antiquated data capture, storage, and communication systems
Plus, the increased visibility and insight into your panel assembly and wiring processes also helps create a more connected ecosystem, and this is important in helping manufacturers better identify areas to increase their overall efficiency and productivity.
Curious about the other design features that make standard modular enclosures the ideal solution for manufacturers who are looking to grow and expand? Download our interactive modular enclosures guide to learn more.