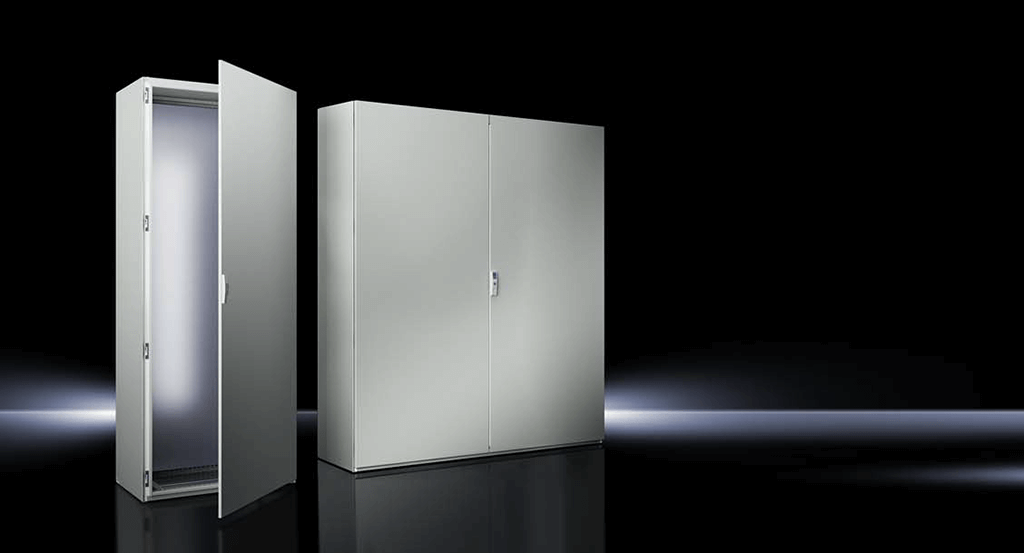 Ask an assembler or installer a question about the value modular industrial enclosures offer in helping manufacturers overcome the challenges of modern manufacturing, and you'll likely get a response that modular enclosures require specialized tools, have too many component parts, and simply don't provide enough protection in harsh industrial environments.
However, that's not actually the case. Not only do modular enclosures help manufacturers achieve greater degrees of configuration flexibility via interchangeable parts and panels, they also help assemblers and installers respond to space constraints on the production floor and simplify your industrial automation infrastructure through reduced BOMs, fewer SKUs, and increased mobility.
To help assemblers and installers understand the value of making the move to modular, let's look at a handful of common questions and answers about modular enclosures, and how Rittal's modular industrial automation equipment can help you unlock new levels of production efficiency and productivity.
Why do modular enclosures come with so many component parts?
Modular enclosures are designed and engineered using interchangeable parts like panels and sidewalls, removable or reversible doors, and handles and lock assemblies. Because so many component parts can be moved or configured based on the required application, using modular enclosures results in condensed or even reduced BOMs, fewer part numbers, and greater capacity to customize the enclosure on the factory floor with a few turns of a screwdriver — Rittal's TS 8 modular enclosure can be purchased using just two-part numbers.
While the misconception that modular enclosures require an increased number of component parts may be enough to give some assemblers and installers pause, the modular nature of the necessary parts gives you more flexibility in configuration without the need for highly specialized parts that may not be included in the BOM of a unibody enclosure.
Speaking of specialization, does baying modular enclosures require special tools?
It does not. What's more, there is no special tooling required for baying modular enclosures while also maintaining the necessary UL Type rating between each set of two enclosures.
In a matter of minutes, using a simple list of brackets, clamps, and common factory tools, assemblers and installers can configure a bayed enclosure system that can easily respond to demands of the factory floor or the panel mounting needs within the enclosure itself. Assemblers and installers also have the capacity for internal and external baying kits for superior configuration possibilities on the factory floor.
With design and engineering built upon faster, more efficient configurations, simplified installations, and interchangeable panels to help reduce tedious, manual processes, modular industrial enclosures are not only preferable to traditional unibody enclosures, but they're actually the enclosure of choice to optimize factory floor processes in modern manufacturing.
Do modular enclosures provide the same level of protection and security as unibody enclosures?
They do. Because doors, panels, and sidewalls can be easily removed or in some cases interchanged, assemblers and installers experience superior visibility throughout the assembly and install process. The condensed BOM and minimal number of SKUs simplifies the assembly and install process and as a result reduces the chance of error.
Plus, the simplified nature of modular assembly and installation means fewer assemblers or installers are needed in what can be small or environmentally challenging manufacturing facilities.
Additionally, to help reduce the likelihood of arc flash incidents, Rittal's TS 8 flange mount disconnect enclosure utilizes mechanical interlocking doors to prevent entry while the enclosure is energized. The TS 8 flange mount disconnect modular enclosure can house adapter plates for high or low amperage disconnect handles to help reduce the risk of arc flash events.
Are modular enclosures ideal for uncontrolled manufacturing environments?
There are a number of design and engineering features that make modular enclosures just as reliable and durable as unibody systems for use in uncontrolled environments. The ease of plinth assembly and installation and simplified floor mounting process that is part and parcel of modular enclosures makes them an ideal solution for harsh or uncontrolled manufacturing environments.
A carbon steel base and enclosure frame and zinc-plated carbon steel mounting panels allow for superior rigidity and support. This frame-based design also provides 30% more stability with 15% less frame weight without sacrificing protection or reliability. NEMA 4 and IP 66 ratings make these enclosures suitable for harsh or uncontrolled environments.
In addition, this frame-based design provides increased rigidity and durability compared with traditional unibody enclosures. Because modular enclosures rely on an internal frame system for support, they can be built using a thinner construction material — 14 or 16 gauge sheet steel — that allows for simpler, faster customization like cutouts without the need for specialized tooling.
But this is just the beginning of the value modular industrial enclosures create for assemblers and installers, and our new guide will help you understand why more manufacturers are making the move to modular. Download the guide to learn more.