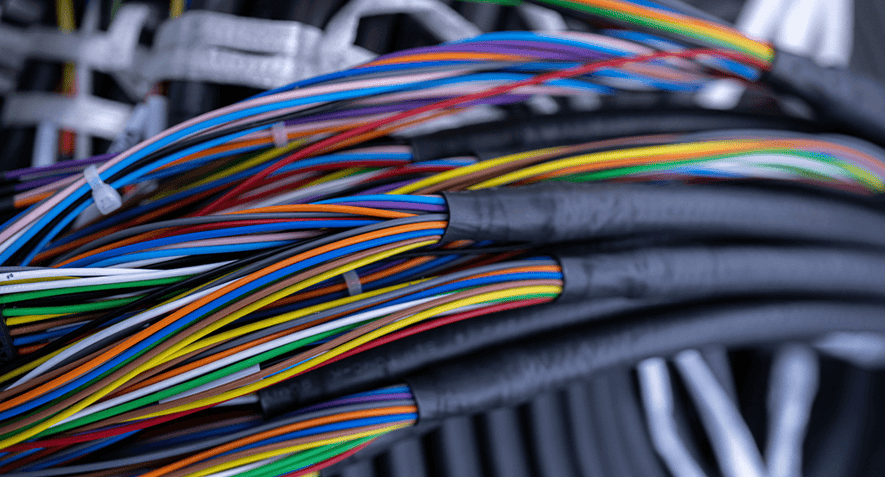 A recent survey by the National Association of Manufacturers (NAM) found that three of the top challenges U.S. producers face in optimizing their production lines are transforming traditional supply chain processes to overcome supply disruptions, upgrading legacy equipment and processes, and a lack of the skilled labor necessary to meet production demands.
This same survey also revealed that these challenges are likely to persist throughout 2023 — and beyond, most likely — which means manufacturers and their automation partners need to pivot to a more connected, automated value chain.
The trouble is many manufacturers and their automation partners may still think this is easier said than done, particularly when it comes to the cost and lead time associated with building a new automation infrastructure or retrofitting an existing space for automation.
However, automating panel modification and wire processing can not only address the challenges outlined above, but it can also help you increase your productivity and grow your business, creating more value in the long run.
Let's look at a couple of key benefits of automated panel and wire processing, and how manufacturers, panel builders, machine builders, and system integrators can leverage these advantages for efficiency and growth this year and into the future.
Automation accelerates enclosure throughput times
One of the biggest disadvantages of a manual approach to panel modification or assembly is the prolonged lead time — and this is to say nothing of the lack of skilled labor in today's workforce or the error-prone nature of manual modification, each of which can create significant bottlenecks in efficient production processes.
Fully automated panel modification processes and equipment eliminate the manual interventions of industrial panel modification and control assembly. These kinds of tools and machines — like those that are part of our Rittal Automation Systems (RAS) suite — are engineered for precise cutting, tapping, milling, and wire processing that manufacturers across industries encounter as today's enclosure applications become more customized.
The varied, unique nature of enclosure applications is perhaps no more apparent than in the automotive industry, with the growth of electric vehicles and the need for a national network of EV charging stations. Not only do these enclosures need to be flexible enough for a variety of deployments, but an accelerated speed-to-market is critical to meet the Biden Administration's goal of 500,000 charging stations by 2030.
Tools like Rittal's Perforex MT milling terminal provide reliable machining of mounting plates, doors, roof plates, side panels, gland plates, or unibody enclosures. Ideal for modifying Rittal's most popular carbon and stainless steel enclosures, the Perforex MT leverages an intuitive user interface where drawings can be viewed and updated in real-time for maximum flexibility and scalability.
Here's a look at how our automated modification equipment helped frac, coil, and well service provider Prime WSI optimize the efficiency of their enclosure and panel modification processes:
Digitalized wire processing can significantly reduce labor costs
If you ask manufacturers, panel builders, machine builders, or system integrators about the most time-consuming, manual process in industrial panel modification, you'll likely hear: wire processing.
This is in part due to the volume of wire processing tasks necessary for panel and enclosure construction and modification. As such, digitalizing and automating wire processing tasks reduces the amount of skilled labor necessary to maintain consistent production, which in turn drives down costs.
And while this is a top level consideration for manufacturers and their automation partners, automating your wire processing also provides several other key value propositions.
First, with a RAS wire processing solution, manufacturers can increase the speed of manual pre-production work such as cutting, crimping, and stripping wires by a factor of 10. Our Wire Terminal WT solution can produce up to 36 different wires with cross-sections ranging from 0.5 mm² to 6 mm² without any manual intervention.
The variety of wire assembly tasks, easy job setup and modification, and compact nature of the machine helps manufacturers work faster and more precisely to meet changing customer or market demands.
Plus, the new fully automated Wire Terminal WT C enables wires to be processed from bulk with individual wire printing and then readied for assembly. The WT C offers flexible configuration, a quick change system for wires, process reliability, three wire output methods, and a digitally supported process. Additionally, the WT C is adaptable and offers an expandable modular system structure to meet future requirements.
The power of an automated wire processing system to save time and money is on full display with our partner Automated Control Systems, LLC (ACS). Our automated wire processing solutions helped ACS reduce labor costs by 75%, and gave ACS the capability to facilitate multiple tasks simultaneously while still ensuring a high-quality end product for their customers.
In combination with Eplan, Rittal's automation solutions empowered ACS to unlock new business opportunities and expand their footprint.
Automation can help enhance standardization and consistency
In looking to optimize the efficiency and quality of production, manufacturers and their automation partners need to identify the materials they most commonly work with and applications their products are most frequently used in to create a standardized process that facilitates consistency.
With this understanding in place, manufacturers can then leverage an automation infrastructure to enhance this standardization and consistency for a better quality end product.
For example, let's look at manufacturers that most commonly modify carbon, stainless, or sheet steel enclosures.
By hand, this process can take up to 45 minutes per enclosure and involves elevated chances for human error. The same machining with a RAS machine like the Perforex LC laser center can slash the production time to just 3 minutes per enclosure with significantly increased precision.
Built for stainless and sheet metal applications, the Perforex LC uses laser cutting technology for precision, speed, and optimized machining of up to 5 surfaces simultaneously. The LC completes highly customizable machining that can run up to 20x faster than conventional milling processes with easy loading for increased ergonomics.
Plus, when combined with Eplan's powerful controls design software, manufacturers can unlock unparalleled insight and visibility into each step of the machining process in order to create a more integrated value chain.
Partnering with Rittal can help make 2023 the year you discover a faster, more efficient, and more productive way to modify and wire industrial enclosures. A RAS solution can help you increase your panel building efficiency by up to 85%. Or, if an in-house modification automation solution isn't quite right for your needs, Rittal's state-of-the-art modification centers can provide fast, precise, and custom modifications for any application.